The Big Brother 17 power shift has led to an exciting potential of drama on the Live Feed as we prepare for a Battle of the Block free Friday ready to focus on some serious nominations drama.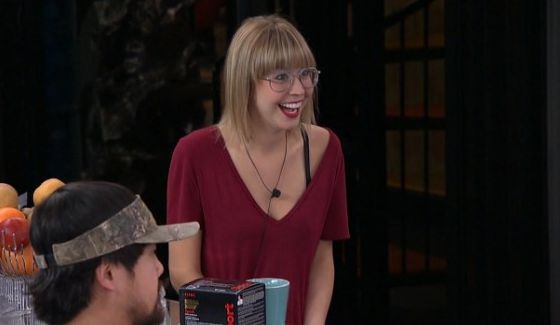 Overnight the new Head of Household began piecing together the targets to go after a Backdoor scenario, but a change of heart soon followed. Find out who is going up on the Block later today.
James has been working closely with his allies Meg and Jackie with the addition of Becky wedging her way in as they worked through a strategy to make this a very big week for them.
Early in the night the talks settled on James nominating Austin and Liz, but they wouldn't be his target. No that honor would go to… Shelli. Oh yes, James is swinging for the fences on this one. That plan lasted for a bit before Austin was replaced with Vanessa alongside Liz. Well, that got replaced too.
Flashback on your Live Feeds to 6:40 AM BBT 7/31. If you don't have those yet then you seriously want to consider getting the Free Trial today. It costs 20 cents a day to watch all the action inside the Big Brother House. Signing up through our links & banners will also support us, so thank you.
James finds Meg alone in the bathroom and tells her that he's been unable to sleep and keeps thinking about his noms. Pawns are so last week, he explains. It's time for some upfront nominations this week. James wants to put Shelli and Clay together on the Block and "go straight for the jugular."
There was a nice little stand up and shout "hell yeah" moment in the middle of James early talks with Meg this morning. Now we're ready for some Big Brother!
twitter-tweet" lang="en">

James: "This is #BB17 & you can bounce checks. You ready?" Meg: "I've got your back. I fought for Jason. I'll fight harder for you."

— Big Brother Network (@bigbrothernet) July 31, 2015
Why bother pissing both of them off with just one of them on the Block, James explains. Makes sense. He wants this to be a blindside and says the power couple feels secure in their position. Well, kinda.