Ahh, nothing like a Big Brother eviction eve that includes a set of twins who have literally argued over who gets to go to jury to put one to sleep.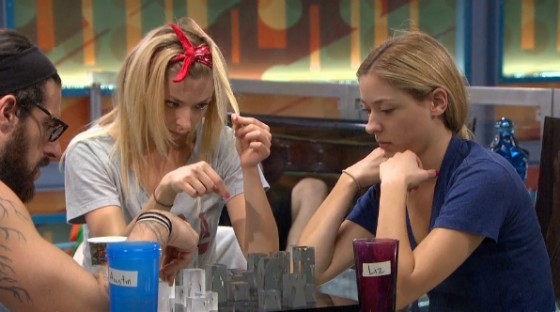 Last night's Big Brother 17 Live Feeds were officially the slowest of the season with a little scattering of game talk. But don't fear, things can only get crazy from here on out. Right?
Big Brother 17 Live Feed Highlights – Wednesday, September 9, 2015:
5:30 PM BBT – Julia and Liz are packing up all their belongings for Thursday's show. It's a lot of stuff.

6:30 PM BBT – Twins are still packing. It's a quiet night.

6:45 PM BBT – Julia reminds Liz that she and Austin better make it to F2 and that's her parting wish.

7:05 PM BBT – Liz finds dead ants in the freezer. She thinks they've committed suicide.

7:18 PM BBT – Vanessa finishes a beer and reads The Bible.

7:38 PM BBT – Vanessa and Steve both say they'll be OK if they get 5th place. Steve says that's better than he thought he would do.

7:58 PM BBT – Julia thinks her memory wall photo will actually look prettier in black and white.

8:00 PM BBT – Steve mentioned things were weighing on his mind so now Julia is nervous that Steve is going to flip the vote (keep in mind it would flip the vote to keep her… what is wrong with the logic this season?). Austin tells Julia that the vote won't flip because Vanessa would really screw herself over if she doesn't win HOH.

8:04 PM BBT – Steve pulls Liz aside and tells her he would completely understand if she puts him up next week but he asks if she's HOH and it comes down to a tie will she break the tie to keep him. She doesn't say no but also won't swear on it. Julia still wants to tell John that Vanessa is playing everyone and had a final two with her.

8:16 PM BBT – Liz tells Julia about what Steve just asked her. Both agree it's ridiculous and they think it's funny that he's so scared for next week. Julia calls him an idiot.

8:20 PM BBT – Steve and Austin discuss Vanessa. Austin says if she makes it to the end, she's going to win the game.

8:40 PM BBT – Austin tells Liz not to scoff at Steve's offers because if Steve has to vote between Liz and Vanessa he could send Vanessa out. Liz says she'll never keep her word with Steve and the way he's acting is proof that he's not happy she's staying.

10:30 PM BBT – House is quiet as most everyone is watching an Austwins chess match. Meanwhile Vanessa and Steve's teddy bear listens to music in the HOH room.

10:50 PM BBT – Twins beat Austin in chess, in case you were wondering.

11:50 PM BBT – Twins are back to practicing their speeches for Thursday's live show. Liz tells Julia not to mention they got boob jobs. (I'd kinda like to hear that version of Julia's speech.)

12:10 AM BBT – Steve and Austin promise to have each other's backs during the next few rounds. Steve is trying to convince Austin that Vanessa does not have a deal with John. Austin tells Steve that Vanessa volunteered her suggestion about challenging Austin in the Veto competition. Steve through Julia had solicited the advice and is surprised.

1:45 AM BBT – The night is winding down as Steve tells the camera he's goal tonight was to keep the Austwins up as late as possible to exhaust them for Thursday. Sneaky.

3:00 AM BBT – Steve is the last of the Houseguests to finally be asleep and now they're all out.
Thursday is going to be a weird one for the TV-only viewers when they see Julia evicted and Liztin together in the house. We've got less than two weeks but still five HGs left going in to the final stretch once Julia heads out the door. Big decisions ahead and very important competitions so stick with us.
You can watch all of these Big Brother events using the archives Flashback, the DVR-like feature of this year's Live Feeds which means it's always live, even when you missed it! Sign-up now to get the free trial to watch it all live & uncensored.
click images to see full-size