Big Brother 17 eviction eve vote flip talk has been very rare this season, but the Live Feeds last night finally delivered.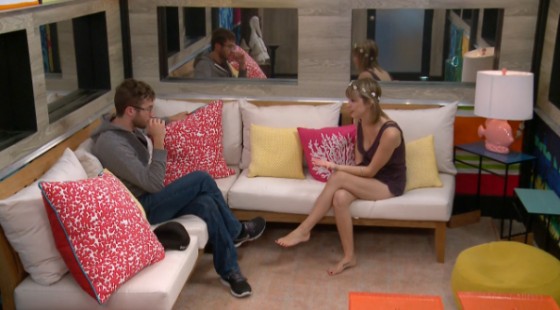 There was a lot of discussion among those voting on whether or not they should keep Meg over Julia and so there was also a lot of worry on Julia's behalf. But what did everyone decide to do ahead of tonight's eviction? Read on to find out.
Big Brother 17 Live Feed Highlights – Wednesday, September 2, 2015:
4:00 PM BBT – Vanessa and Austin talking game as Van says she can't figure out JMac and doesn't know where his head is in the game. This is a cover as she wants to hide that partnership.

4:10 PM BBT – James and Meg discussing James's strategy moving forward. He says he tested the waters with Austin about going after Steve and JMac, but senses maybe they're working together.

4:50 PM BBT – Steve grabbed John and quickly asked if they should be flipping the vote with the crapshoot HoH comp that they just practiced. It's not safe to talk so the subject changes.

5:25 PM BBT – Steve talking to himself says that he and John will flip the vote and join James to be the 3. He says "Scamper Squad is over." Steve is worried about making sure he can keep John as long as possible.

5:40 PM BBT – Vanessa and Steve have a long, long talk about flipping the vote and why that'd be bad for her his game. Will this void Steve's previous declaration?

6:15 PM BBT – Steve asks who Van wants to go to F3 with. She says Julia because she'd be easy to beat in those final comps.

6:20 PM BBT – Vanessa promises Steve she has never ever made a F2 deal or working arrangement with any other HGs besides Steve.

6:25 PM BBT – Austin arrives and ends that lengthy conversation. Now for a new one. Austin opens the door for a sanctioned hit on the twins, but says he can't be the one to do it. He knows a F3 with the twins is not a good situation for him. Austin worries the twins will go up, Liz wins Veto, then he'll be renom'd and go home against Julia.

6:43 PM BBT – Vanessa making sure Austin knows that Liz would castrate him if he voted to evict Julia this week. Austin says he thinks John would nominate James and Julia if he wins the next HOH. He also tells Vanessa and Steve that he won't break up the twins before final 3. (Hmmm, think about that one, Vanessa and Steve).

7:38 PM BBT – John and Vanessa are now having the vote flip conversation. Vanessa keeps trying to make logical points for keeping Julia.

8:00 PM BBT – Vanessa tells John she thinks they'd be in trouble if they voted out Julia unless they could convince Liz that Austin was a part of the flip. Vanessa tells John she'll deal if the vote flips on Julia but she just wants to be in the loop. She also says they'll need to get Austin's blessing (OK, Vanessa).

8:26 PM BBT – Steve goes up to the HOH room, where it's just John and they again discuss flipping the vote. John tells Steve that if they evict Julia then Meg and James won't come for them. Steve says he doesn't know what they should do. Steve says they'll talk about it tonight (even though they're alone now). Steve says it's really risky and John says he doesn't want to end up in the same position they were in last week (both of them on the block). Steve asks if he wants to do it. John says he's on the fence because it's risky.

8:42 PM BBT – Meg tells James she feels like she's not fighting hard enough, but she doesn't feel like there's any use. She talks about talking to Austin again.

8:55 PM BBT – Austin tells Liz that the Live Feeds watchers are "fat nerds."

9:23 PM BBT – Liz and Julia head up to the HOH to practice Julia's speech and Vanessa stars sketching them out about Austin. She tells them that the only way Julia gets evicted is if Austin is OK with it or behind it.

9:30 PM BBT – Vanessa has the twins equally freaked out, so Liz is going to talk to him to make sure he's still on board with everything.

10:14 PM BBT – Meg makes her pitch to Steve. She tells him this is the chance to change the game and get out the threesome. She tells him that she and James have never gone for him and they've never voted to evict him. She asks for his vote and tells him that this is the chance they can take over the game.

10:15 PM BBT – Julia and Liz talk about Austin. Julia is really sketched out by him and saw Steve and Austin talking and she got suspicious. Julia admits that she does not like Austin for Liz.

10:17 PM BBT – Julia and Liz talk turns to Meg and James. She's upset with them and says they're bullies. She says she hates everyone but Vanessa and Steve and she doesn't even want to sleep in the same room with Meg and James. She says she's so ready for Big Brother to be over so she can go home.

10:45 PM BBT – James tells Meg he caught Austin and Steve whispering and they stopped talking when they saw him. They think he's working closer with Austin than he is Johnny Mac. (Steve was just telling Austin about his conversation with Meg and that there wasn't much to tell).

10:50 PM BBT – Now that James has seen Steve is working with them, he is on James' radar. He says he'd nominate Austin and Vanessa with Steve as a replacement nominee.

11:00 PM BBT – Meg and James continue talking about what's going to happen this week and beyond. Meg is "95 percent" sure she's going home and wants to call Austin out, but says she better not.

11:08 PM BBT – Meg cam talks, explaining how she feels about her campaign and that she tried her best to stay.

11:10 PM BBT – James and Johnny Mac talking in the bathroom about the vote. John says he can't flip it himself even though he wants to. James understands. So they talk about winning the HOH and making a move then. John says the win or they die.

12:15 AM BBT – Austin worrying to Steve about James winning HoH on Thursday and going after the twins or Vanessa.

12:30 AM BBT – Liz tells Austin she'd be heartbroken if he voted out Julia. This was planned earlier by Vanessa as a way to guilt trip Austin and avoid him flipping.

1:30 AM BBT – Steve and John talking about flipping the vote. John points out they'd have the numbers advantage if this HoH comp is random like what they practiced. Steve is hesitant because of Vanessa. John says to keep this between them and they'll talk again in the morning.

1:40 AM BBT – Steve is alone and pacing while camtalking and trying to figure out his best move. Says he doesn't want to lose the game by keeping a threesome together but worries about being a terrible person for evicting her.

1:55 AM BBT – Steve continues the debate trying to figure out if he'd go up against John as retribution.

3:00 AM BBT – Steve is still trying to figure this out. He's pacing and talking. Steve heads upstairs and hangs around the HoH door for awhile before going back downstairs.

4:15 AM BBT – Still awake, Steve continues to pace and mumble to himself that he might want to do the flip. John was up and in the bathroom, but they didn't intersect to have another talk. Steve has the lights on in the back bedroom and doesn't look ready to sleep yet.
So much debating going on for Steve over the idea of keeping Meg and flipping on Julia. With this much hesitation on Steve's part I'm expecting him to fold and go back to keeping Julia, but maybe he'll have a breakthrough on Thursday to lead him in the other direction.
You can watch all of these Big Brother events using the archives Flashback, the DVR-like feature of this year's Live Feeds which means it's always live, even when you missed it! Sign-up now to get the free trial to watch it all live & uncensored.
click images to see full-size