It was another quiet day in the Big Brother 17 house as Jeff has basically given up hope and Vanessa's HOH reign is nearing its end.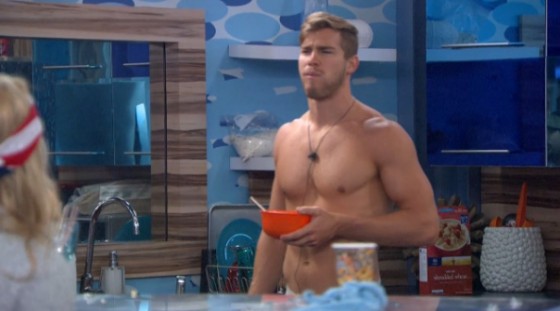 But that doesn't mean Vanessa has stopped playing the game. There have been a lot of subtle moves made by her lately, including today, that suggest she's got a master plan going on inside her head.
Big Brother 17 Live Feed Highlights – Wednesday, July 15, 2015:
9:35 AM BBT – HGs get their wake-up call and are finally moving around the house.

9:38 AM BBT – Jason and John say things with Audrey have cooled down. Jason says he's over hating her.

9:58 AM BBT – Inside lockdown called. They'll be stuck inside until Thursday's live show.

10:05 AM BBT – Vanessa's latest plans start to become more clear.

10:19 AM BBT – James is packing his bag in case he's evicted tomorrow night.

10:30 AM BBT – Most HGs have gone back to bed.

11:05 AM BBT – Vanessa and Austin are talking about alliances. Vanessa thinks they should bring Becky into their side alliance. Austin says he thinks Shelli and Clay will eventually turn on them, especially if Jason wins HOH. He thinks they would throw Vanessa and himself under the bus.

11:25 AM BBT – Austin tells Vanessa he wants to test Clay and Shelli's loyalty next week.

12:25 PM BBT Austin returns to the HOH room and is telling her he needs to talk to Liz. He's talking about his personal life and how he's had his heart broken before.

12:35 PM BBT – Vanessa asks Austin if he would be OK if Liz goes next week. He says he would have to be. They think the other side of the house would target Liz before them.

12:42 PM BBT – Austin is talking about how basically every woman in the house wants him and that his strategy is to take out all the guys.

1:00 PM BBT – And Austin continues to talk romance to Vanessa. He's telling her stories of woe.

1:30 PM BBT – Vanessa tells Austin about her ex-husband dying of cancer after she left him for her girlfriend. She's getting emotional.

1:31 PM BBT – Audrey and Shelli are talking about what is going to happen. Audrey says that she thinks James will go after Austin. She also talks about telling Jason that she wants to build confidence with each other. He told her that if he wins HOH that he won't come for her. Then she talks about getting Jason out next week.

1:36 PM BBT – Audrey tells Shelli she would put up Meg and Steve with the plan to backdoor Jason.

2:30 PM BBT – Vanessa left Austin and Liz in the HOH room so he could talk to her.
You can watch all of these Big Brother events using the archives Flashback, the DVR-like feature of this year's Live Feeds which means it's always live, even when you missed it! Sign-up now to get the free trial to watch it all live & uncensored.
click images to see full-size