Jason Roy's back is up against the wall on Big Brother 17 as he faces imminent eviction and after sleeping away most of Wednesday he finally arose to continue Operation Save Jason.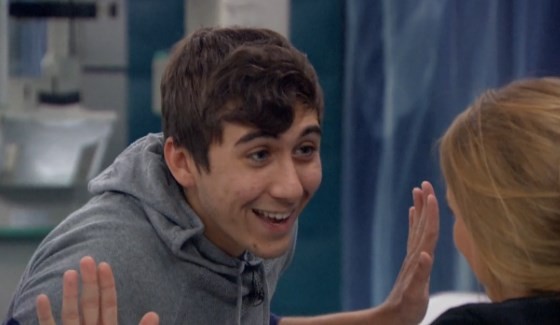 Meg put the plan in to action early, early Wednesday morning leaving Jason to seal the deal. Unfortunately Jason waited twenty hours to do so which put him fifteen hours after Shelli had already talked it out with Vanessa.
Flashback to 1:53AM BBT Cams 3/4 to find Jason talking with Shelli to try and sway her vote. He opens with the big guns telling Shelli what she needs to know to start worrying about Becky. Jason explains that while Becky's regular nom choices would be Austin and Steve to target Steve, as she's said before, her Double Eviction targets would be Clay and Shelli on the Block together.
Shelli looks doubtful with pursed lips but Jason continues to insist he's telling the truth and she had just told him the other day during a late night talk. She suggests Jason is lying, but he's promising her he's not. Clay then arrives and Shelli brings up again her paranoia that the house was trying to flip and vote out Clay. Jason capitalizes on that to say on Clay would have only had 3 votes including his and Meg's though he stops short of endorsing that there was actually a flip attempt on Clay.
The talk goes on for over an hour with Jason promising everything he's got and telling them anything he knows. Eventually things wrap up and Jason leaves to Shelli and Clay can discuss. Jump forward to 3:10 AM BBT to hear their reaction to Jason's proposal.
Shelli tells Clay about her talk with Vanessa (to see that one go back to 7/29 at 10:55 AM BBT) where she reaffirmed why they have to vote Jason out over Becky, but Jason did have a glimmer of hope.
Shelli explains that at the start of this conversation with Jason she started to think that she needed to go up and tell Vanessa they need to change things. Clay says that Jason talked too much "restated a lot of stuff he already said." Too much information is just too much for Clay I supposed. Just like that, Operation Save Jason is shutdown again.
Their discussion goes on for awhile longer with Shelli and Clay putting more faith in John and Becky. Shelli wants to go to them in the morning, tell Becky what Jason said, and then form yet another "ride or die." I'm wondering if Chelli's game isn't going to die by all these rides.