Last night the Big Brother 16 Houseguests got a visit from the much anticipated Zingbot, but by the time he left some of the HGs were really wishing he had never been plugged back in this year.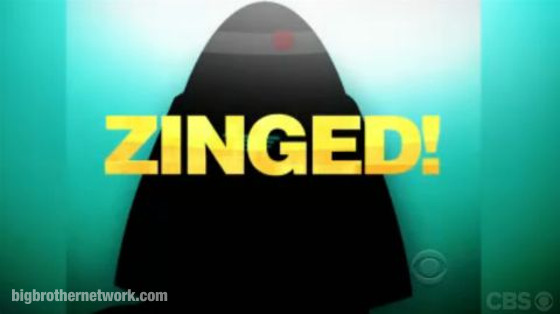 As part of the Power of Veto competition the Zingbot arrived with a special guest this time: Kathy Griffin, or Kathy Lee Gifford if you ask Cody. The Zingbot cranked up the mean factor this year along with Griffin's help while mocking Frankie for his coat-tailing, Derrick for his looks, Christine for her behavior with Cody, and plenty more.
Update: Zingbot Zings list from tonight's Big Brother episode:
Kathy Griffin Zings:
Caleb: You and Amber have something in common. You think she is drop dead gorgeous and she wants you to drop dead.
Christine: There's a belief that glasses make people look smarter. Thanks for disproving that.
Victoria: I would Zing you, but I'm only supposed to Zing people who are actually playing the game.
What do you call someone who is not afraid to cry, wears pink, and cuddles with men? Zach! *Kathy walks over to Zach* "Zing! Motherf**ker!"
Zingbot Zings:
Frankie: That's a nice tan, but I'm surprised you get any sun at all considering you how much time you spend in your sister's shadow.
This is a house of good looking dudes. There's not one unattractive man in here. Oh wait, I didn't see you there, Derrick.
Donny: Your luck is very Duck Dynasty. Too bad your social game is more like Suck Dynasty.
Cody: You're such a nice guy. You haven't made any enemies this summer, except for maybe Christine's husband.
When the Feeds returned from the comp not only did we find out who won the PoV this week, but also lots of retells of the Zingbot's Zings this year. Here's what we've gathered from the Live Feeds:
Frankie's Zing was of course related to his sister. Zingbot told Frankie he had a good tan considering his lives in his sister's shadow.
Derrick's was about his looks. Zingbot said all the guys were really good looking this year then adds, "oh wait, I didn't see you there, Derrick."
Donny's Zing related to his poor social game of not being around the other HGs so he said he'd stay up later to be more social. "Your beard looks like Duck Dynasty, but your social game is Suck Dynasty."
Victoria was criticized for being a wallflower and not having a game. She became very concerned that she'd get boo'd or disliked by Julie as a result. Victoria told Zach she was playing a "reserved game."
Zach's Zing asked what you call someone who wears pink, cuddles with men, and cries a lot: Zach. Kathy Griffin allegedly walked over and told Zach, "Zing, MF'r" after her joke.
Caleb's had something to do with wearing make-up as he has repeatedly done in the house.
Christine's was about her tattoos and may have been a throwback to JennCity's tattoo Zing.
Christine's Cody's Zing took aim at her close and physical connection with Cody. Viewers and production have zeroed in on the frequent physical contact between her and Cody. Cameras often zoom in on their hands rubbing all over each other.
Cody said he didn't initially think the Zing was that bad but then realized it was. He's very worried about Christine's husband being upset and it making Cody looking bad. Derrick advised Cody to go tell the DR that they shouldn't air that one.
Christine echo'd Cody's concerns and it was heavily discussed after the Feeds returned. Christine is very worried about her pastor and members of her church hearing the Zing and thinking poorly of her. She must not be too worried though as she almost immediately started doing it again and the cameras zoom right in on their hands pawing at one another.
Later that night Christine was crying around the house about the situation. HGs tried to comfort her as she worried about what her husband might think. Online her husband took to Twitter to reassure viewers that he did in fact love his wife, but other comments have also indicated he's felt hurt by the behavior. Rightfully so, I'd say, but how they handle it is between them.
We'll have to listen out for more details on the Zings then we'll get to see them all play out on Wednesday's episode of Big Brother 16. Who do you think got the best Zing?