A fan favorite pairing quickly sprung up quickly this season on Big Brother 16 with Houseguests Zach Rance and Frankie Grande aligning to create Zankie (not "Zrankie," it's Zankie) while blurring the line between bromance and showmance. Ahh but soon the fall out began.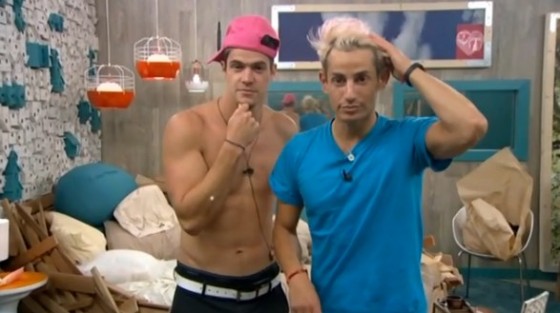 Days before Zach blew up the Bomb Squad we spotted Frankie on the Feeds going against his close ally. It didn't make much sense, but there it was. Then following the explosive Veto meeting last week Frankie had the perfect reason to go full throttle against Zach and he did just that.
Once the effort to get out Zach was clearly going to fail Frankie decided to circle back around and try to make nice. Or was that "fake" nice? When it came time to decide the Team America rumor target Frankie put Zach in the spotlight for something that could have easily hurt his game, but once again Zach escaped relatively unscathed.
Last night Zankie appeared to make a comeback as the "Detonators" alliance was formed. Sitting together on the couch in the HoH room Zach and Frankie cuddled, hugged, and even held hands. Flashback to 4:48AM BBT 7/16 Cameras 3/4 to watch on the Live Feeds. (Get your Free Trial now.)
Do I honestly think either is interested in the other in a romantic sense? No, but they're a fun dynamic and fans like them so watch for production to give them any boost for that chance.
What do you think of Zankie? Do they have a chance of really bringing back their F2 deal or even working together again this season? The tide is shifting against Frankie and he could soon need Zach's help more than he might be expecting just now. We'll have to watch and see what happens next for this crazy pair.
click images to see full-size views