Just as Donny Thompson has been on a near constant run in Big Brother 16 the same seems to be happening for Zach Rance but it may all come to an end at the hand of none other than his formerly close ally Frankie Grande.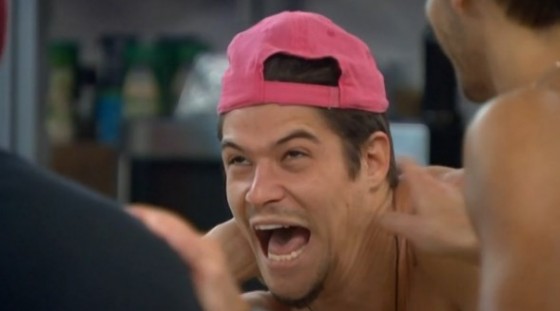 Heading in to yesterday's Veto competition Donny Thompson knew Zach's game was on the line and promised Zach he would try his hardest to help protect him by winning the Veto and leaving the noms the same. Unfortunately for Zach, Donny wasn't able to come through on that help.
Frankie won and has the Power of Veto which gives him complete control over the final noms this week. He had previously told HGs that he would renom Victoria and send her packing if someone came down. He went as far as saying he'd save Caleb and renom Victoria, but now that he has the option his tune has changed.
Shortly after the Veto competition ended Caleb approached Frankie in the Storage room to ask him about Backdooring Zach. Frankie immediately warmed to the idea and said he had been considering that very option.
Later Frankie contemplated holding a House Meeting to let Zach know what's coming in hopes of avoiding an explosive Veto Ceremony. Considering an early alert would give Zach more time to negotiate the situation, that would be a good thing for him. That hasn't happened yet.
It seems Frankie doesn't just want to evict Zach, he wants to really get him. Frankie described his desire as wanting to put Zach down with a slow drip like you would euthanize a dog. He also allegedly suggested putting Zach down like a baby and killing him. Frankie is big on the imagery as he prepares to send Zach to Jury.
Let's be honest though, Zach has floated the idea of getting Frankie too so really this was going to come down to whoever struck first. However, we're now seeing two weeks in a row where someone is sending out a former ally and that's really not going to help either in the Jury.
I guess in hindsight it might have worked out a lot better for Zach if he had gone with the plan to be nominated with Donny. Maybe he'd be sitting with safety around his neck this week instead of having his allies plan his funeral. Looks like Zach was done in by that orange Skittle after all!
There are just five votes this week. He'll need three and I don't think Zach can get them if he's on the block against Cody. Donny, yes, but Derrick, Christine, and Victoria will not vote out Cody.
Do you think Zach can rescue himself from yet another elimination plan? It feels like he's had nine lives in this game but they're about to run out.
Of course don't forget about the returning Jury member. He'll be on edge that night while his competitors may be softened from weeks of sitting around waiting. Should be interesting!
Update: HGs planning to tell Zach tonight after dinner. Frankie is coordinating it so you can expect it to be on BBAD and his seat to be front and center to the camera.