Donny Thompson sits on the Big Brother block with a seemingly sealed fate as the HGs prepare for Thursday's eviction, but could a last minute debate change all that and flip the vote?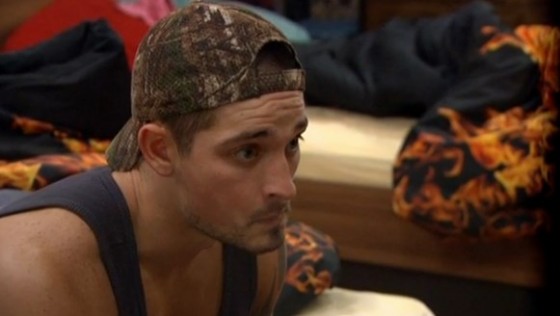 Just a few weeks back we saw Caleb stop the house with a simple question of whether or not their plan to evict Zach was what was best for the group. Last night he raised the same question as they prepared to send Donny to Jury while keeping Victoria.
Flashback on your Feeds to 7:05 PM BBT 8/27 to find Caleb and Derrick alone in the Fire room. Caleb tells Derrick that Nicole is a bigger threat in the game for them. They discuss that while Donny is smart Nicole is both smart and athletic. Donny has won athletic comps, so this argument is not entirely accurate.
Derrick tells Caleb to talk with Frankie before going to Cody. He doesn't want Cody to get worked up if there's no point with a lack of votes.
Caleb pulls Frankie in to the Storage room at 7:25PM BBT and asks what he thinks of keeping Donny and evicting Nicole. Considering Frankie has been very concerned about Nicole coming after him this is an easy choice. Frankie wants to keep Donny.
Next stop: Cody. This is where things really fall apart. Jump to 7:35PM BBT as Caleb talks with Cody about weighing their options in this vote. Cody isn't having anything to do with the idea of keeping Donny.
Ten minutes later Derrick has arrived and if anyone is going to shift Cody then it'll be him. Cody continues to strongly oppose this plan. Derrick reminds Cody that Nicole has been in the Jury and talking about the game. He says that worries him, but it doesn't seem to concern Cody.
After a lengthy talk Caleb polls the group to see what should be done. Cody, who has no vote, says Donny needs to go. Frankie wants Nicole out. Derrick doesn't answer and Caleb says he'll vote with the group.
Eventually things get to the point that Caleb starts arguing in favor of evicting Donny. Caleb finally says "let's just send Donny home" and Derrick agrees, "Well it's done then."
The discussions continue back and forth through the night but never again with such promise as there was earlier in the night. Frankie really wants to be rid of Nicole and Derrick seems indifferent with worries on both sides of the debate.
Eventually Frankie concedes it's a lost cause and will go with the group to evict Donny. They will stick with keeping Nicole in hopes of better controlling her HoH reign should she win again.
There is always Thursday, but I'm not terribly confident in anything changing at that point. Cody won't relax on this and Derrick won't want to piss off Cody so I don't seem a change in the final hours.
Caleb nearly pulled off another House flip, but Cody shut it down. Donny will go and Nicole will stay to go after a big target. If she wins HoH tonight the guys will seriously regret their decision. I guess we'll all see soon enough.