Zach Rance is on his way to be voted out Thursday night and whether or not he wins his way back in is yet to be seen, but some of the Houseguests are forgetting he could end up a Jury member. A voting Jury member.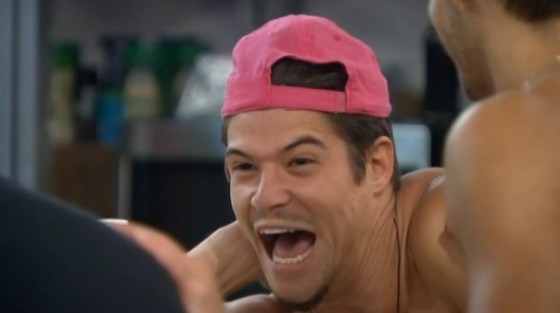 Last night Victoria Rafaeli escalated the on-again-off-again feud between her and Zach when she decided to destroy his pink hat. I say "his," but as we saw earlier this season it was actually Victoria's hat from a competition which Zach appropriated without protest. Seems Victoria thought now was the time to take it back and make it no more with an indirect attack on Zach.
Flashback to 11:54PM BBT 8/18 to find Zach sitting at the kitchen table with the pink hat next to him. When he leaves the room Victoria jumps up, grabs the hat, and runs to the bathroom to stash it but then races it to the Have-Not room instead.
click images to see full-size views
From the HN room Victoria shouts back to Christine "get me a knife please now!" Christine grabs one from a drawer in the kitchen and starts running. (What a great idea…) The Feeds cut a moment later and stay off for nearly three solid minutes.
When the Feeds return at 11:58PM BBT (get your Free Trial now and watch) Victoria is sitting in the kitchen smirking and rubbing her palms together. No sign of the hat at all.
At 12:07AM BBT Cody tells Caleb what happened. He says Victoria took the knife from Christine and "diced up" the hat. Caleb is shocked. He stands there mouth agape for several seconds as Cody retells the story.
Victoria comes over at 12:08AM BBT and is miming slashing with her hands. Victoria tells Caleb it was her hat and she wanted to do that to it. She says, "Sorry. You're going to go around torturing me, talk crap about me, degrading me, and what else? F**k you. I'm not going to look stupid." Caleb replies, "I need to go take all my stuff upstairs."
click images to see full-size views
At 12:09AM BBT Victoria talked to the camera and says to her mom and dad, "I hope you're proud of me." She then lists off friends and says she hopes they're proud of her too for "finally frickin' standing up for myself." Victoria also notes that she definitely got approval from DR first.
It's not until around 12:30AM BBT that Zach realizes the hat is missing and goes looking for it. Victoria is taunting Zach in hopes of getting him to lash out at her. She thinks he might hit her and then be expelled from the game. Zach does not touch her.
Let's take a moment here. Is Victoria a complete idiot about this game? The house has him locked for eviction and they believe he's solidly heading for Jury. (They don't know for sure about the twist this Thursday.) Just as we saw on Monday where Frankie berated a beaten Zach, Victoria is now following a similar path of beating someone who is on the ground instead of smoothing things over.
With their expectation that he's done and gone WHY would you possibly be anything but at the very least cordial to someone who the next time you expect to see them is when they're deciding whether or not to give you a HALF MILLION DOLLARS?! Stupid, stupid, stupid.
It was a rash and gameless move by Victoria fueled by her earlier feud with Zach and now that she has the upper hand she pushes it over the line. What a terrible game move. Okay, it's not like many fans think she's got a chance to win even if she hits F2, but does she think that too? Good grief.
Update: Victoria purchased the hat at Wal-Mart and brought it with her. It was NOT from production as I incorrectly reported earlier as I believed it was a prop from a competition earlier in the season. However, at 8/12 2:32AM BBT Victoria tells Zach he can keep the hat. So who did it really belong to?
So Zach's pink hat is gone. (Note: it belonged to Victoria first and this is why she was allowed to do it.) Considering production provided the hat we may see a new one appear, but that's no guarantee. Maybe Julie will surprise him with one before sending him back in to the house to compete for his chance to return to the game.
What do you think of Victoria's decision to destroy the hat? Was it a smart game move or purely personal and vindictive?
Update 2: Victoria most definitely trashed the hat with the knife last night. We didn't get to see her take a knife to it as BB cut the Feeds for three minutes, but this morning Victoria snuck the remains of the hat in to the bathroom, wrapped it in tinfoil, put it in a zip-loc bag, and then buried it in her belongings. Flashback to 11:59AM BBT 8/19. I have no idea why she had to hide it so deeply in so many wrappers, but that's what she did. Here are the pictures: