Following today's Veto Ceremony where former allies were officially turned against one another we saw two very different tactics. It seems some players are forgetting we've reach the Jury stage of the competition.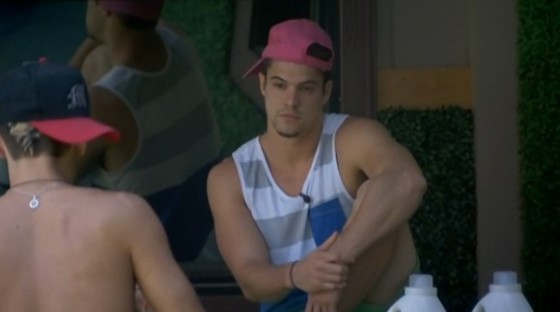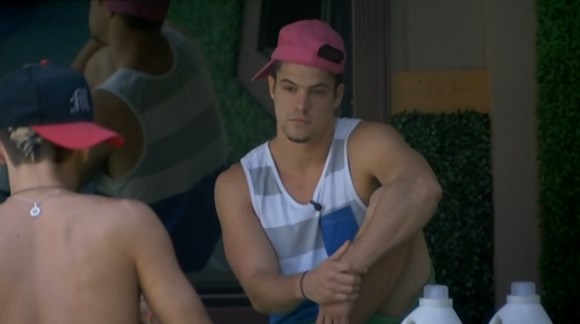 When the Feeds returned from the Veto Ceremony Zach found his way out to the backyard and began working on Caleb for support. Caleb seems to have no interest in hearing Zach out but Zach didn't let that or Frankie's arrival slow him down.
Soon Frankie took over for Caleb and began yelling at Zach. Flashback to 12:40PM BBT 8/18 to watch. "I don't understand how you can possibly be so stupid!" Frankie shouts at Zach. Then Frankie blamed the entire series of events on Zach. Frankie said this was all Zach's fault and was a result of him not getting over their past differences. Frankie suggests none of this would have happened if he had only gone up on the block with Donny and thrown it as the group wanted.
This arguing goes on for about twenty minutes as Frankie continues to try and make himself the victim of these circumstances created by Zach. Frankie says his personal feelings weighed heavily on him as he struggled with this decision. Zach finally leaves and goes back inside as he should have done awhile ago.
Jump forward to 1:17PM BBT and you'll find Derrick coming to visit Zach as he sits alone in the backyard. Derrick gives Zach a pep talk and encourages him to keep his chin up. He tells Zach he probably won't be friends with everyone after the season, but that's okay.
Derrick reminds Zach that he's supported him before and he'll continue to do so. He tells Zach that he won just be being selected to be a HG and the achievement in itself of doing that.
The entire conversation lasts about a minute. Derrick doesn't berate Zach or try to make Zach the aggressor and himself the victim. He's calm, kind, and then he's gone.
Frankie told Zach this morning that he was powerless (as both HoH & Veto winner) to stop the train and it was all up to the house. Now it's not just the house's fault, but Zach's too, according to Frankie. I don't know why Frankie thinks he needs to be the victim. You're cutting your own friend and ally. Own it. This "poor me!" approach is only going to piss Zach off and that is not the way you want to send someone off to Jury. It's the same bad move Christine made last week that left her as Nicole's top target if she came back.
I'm sure there's no easy solution to sending someone to Jury without them being upset at you, but yelling at them that they're "so stupid!" isn't a good start. Derrick continues to play an excellent game and the other HGs are going to need to play catch up real quick as the Jury builds. Or at least they'll need to start thinking about those five jury votes they'll need to snag the crown.