Things don't look good for the "Honesty & Integrity" gameplan on Big Brother 16 this week as Devin Shepherd and Caleb Reynolds prepare to find out which of them will be evicted and which will have a shot at the two HoH seats about to be filled.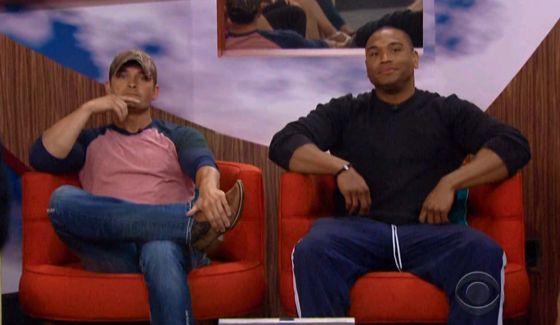 Having entered the game with the promise of a crusader of truth and righteous strategy the house has against Devin's questionable game moves of betrayal and paranoia. Tonight we'll find out if it was enough to send him packing or if "Beast Mode Cowboy" will get the blindside of his Big Brother life.
On top of another live eviction the HGs are preparing today for a new Head of Household competition. Is it time for a new endurance battle? If it is then we'll be ready to start watching the competition play out only on the Live Feeds. Get the Free Trial now and check it out!
Join us tonight here for a live recap and discussion of the latest Big Brother show plus you can find us on Facebook and Twitter for even more updates as the game plays out in real-time on the Feeds.
The show kicks off with some flashbacks to Devin considering whether he should try to campaign. Production had to tell him to get out there and talk to people. Then we've got Caleb's obsession with Amber and how it's clouding his game. HGs thinking it might be time to get him going on out the door.
Jeff Schroeder is hosting the hometown visit segments this season and his first stop is Donny Thompson's family and friends. It's a hilarious segment whether you're a Jeff fan or not. Donny has some fantastic support back home even though his parents aren't interested in watching Big Brother.
Big Brother 16 Week 3 Votes:
Jocasta votes to evict: Devin
Donny votes to evict: Devin
Nicole votes to evict: Devin
Hayden votes to evict: Devin
Zach votes to evict: Devin
Cody votes to evict: Devin
That's enough votes.
Victoria votes to evict: Devin
Frankie votes to evict: Devin
Amber votes to evict: Devin
Christine votes to evict: Devin
Brittany votes to evict: Devin
By a vote of 11-0, Devin Shepherd has been evicted from Big Brother 16.
Big Brother 16 Week 4 Head of Household Comp – Deviled Eggs: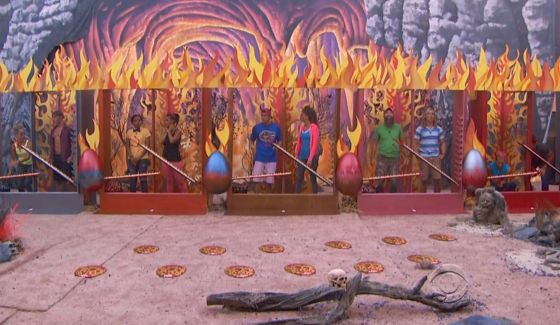 It's a chicken wire comp! The HGs are split in to pairs and must work together. This looks like a semi-endurance competition. You'll want to turn on your Live Feeds as we might get to watch more on there. Start your Free Trial now.
Teams were decided by draw. Victoria & Christine; Caleb & Nicole; Brittany & Jocasta; Amber & Zach; Donny & Hayden; Cody & Zach are all paired up.
Each team must work together to move 12 eggs across the course and safely to the other size. This looks tough!
Get our spoilers to find out who won Head of Household tonight!
Don't stray too far because we'll have a LOT more Big Brother updates very soon. Friday morning I'll be talking with tonight's evicted HG. Then later on Friday we'll get the nomination results and the Battle of the Block results. This is the game that never rests and neither does our coverage!