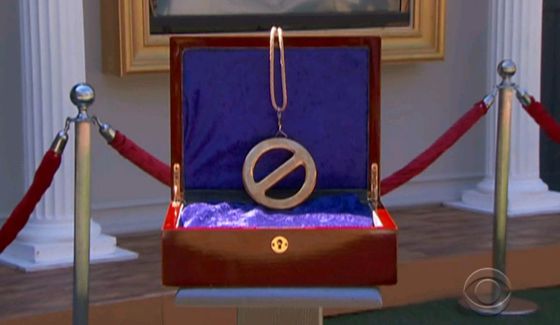 The first Big Brother 16 Power of Veto competition of the season is over and we have the results and spoilers for you. After the crazy double set of nominations and HoHs a lot of targets were flying around, but this PoV comp was just one more chance to change all that up. Now the Feeds are back and we have results after watching return from the backyard.
Be sure to join us on Facebook and Twitter so you never miss another Live Feed spoiler.
Read on to find out who won and what that could mean for the game this week.
Big Brother 16 Spoilers: Week 1 Veto Competition Results:
Donny won the Power of Veto!
The HGs playing in today's comp were Caleb as HoH, his nominees Donny & Paola, along with selected players Cody, Victoria, and Zach. Jocasta hosted the competition.
Jump on the Feeds right now with a Free Trial and watch as the House reacts!
click images to see full-size
Before the challenge we heard Devin make a case to Caleb and Frankie for their next move. Devin suggested taking down one of the two noms: Donny or Paolo, and renom'ing Joey to send her home. He was confident Paola and Victoria wouldn't be threats later and their abrasive behavior would make them targets for others. Meanwhile they could keep Donny and get rid of Joey.
The target on Joey goes back to her allegedly out'ing the all-girls alliance we saw the ladies start to build during the first episode. How the beans were spilled on this might be a mystery for now though as it looks like that happened before the Feeds turned on last night. It is Day 8 in the house afterall so they've had lots of time to do lots of things.
Despite Devin's suggestion and argument Frankie concluded they needed to stick with the plan and target Donny unless he won Veto. If Donny won Veto then they'd renom Joey and send her home short of her Team America glory. Why did Frankie so strongly want Donny eliminated? Because "He's a f***ing GENIUS!" declared Frankie. You see, Frankie is convinced that Donny is not a groundskeeper, but actually a super-intelligent professor playing them all. I'm not kidding. But Donny is a groundskeeper and Frankie is just crazy. Or at least crazy paranoid.
What do you think of the PoV Comp results? What will happen at the ceremony? The Veto Ceremony will be coming up and we'll post spoilers when they happen.
Turn on your Live Feeds and enjoy the drama. Watch it all now live & uncensored.