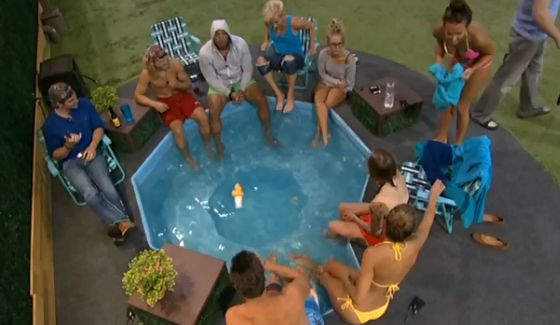 Big Brother Houseguests had an action packed Friday with the results of the Power of Veto competition causing a lot of whispering, plotting, and planning. And that was just in the production office as Grodner scrambled to save her latest Twist already on a crash course to implode!
Find out the highlights from overnight on the Big Brother Live Feeds and get caught up on where the house is headed next. Looks like we've got a fun week ahead of craziness.
Big Brother 16 Live Feed Highlights – Friday, June 27, 2014:
4:16PM BBT – Feeds return. Donny is wearing the Veto & has won the comp.

4:30PM BBT – Caleb and Brittany talking in The Hive. He says he'll go with house decision, but then brings up Joey. Brittany says she'll vote out Paola over Joey if he does that.

4:45PM BBT – Amber and Caleb now in The Hive. Amber suggests Hayden as a guy renom option or Joey as the girl renom. Caleb wants Joey. Amber confirms that yes, she would vote out Joey instead of Paola.

4:55PM BBT – Hayden and Nicole are worried about renoms, but think Joey would go up.

5:15PM BBT – Caleb in The Hive with Joey. Warns her to be ready for a renom, but says it will be house decision for whoever goes up. He criticizes her decision to tell HGs about the girls-alliance. That move has now put her in this position.

5:40PM BBT – Frankie and Christine confirm plan to backdoor Joey.

5:55PM BBT – Frankie and Zach catch up on their alliance. Frankie again confirms plan to BD Joey.

7:35PM BBT – Amber and Derrick talk game. Derrick points out only 4 options outside of the "Bomb Squad" alliance for Caleb to renom: Hayden, Jocasta, Joey, and Nicole. Victoria & Brittany can't be renom'd since they won BotB.

10:30PM BBT – Backyard is finally open!

10:32PM BBT – Joey campaigning to Cody. He pretends he might go up, but he's in the 8-team alliance and is actually safe. She admits it was a "dip shit" game move with the all-girls alliance flop and regrets it and she didn't know better. Joey is new to Big Brother.

10:35PM BBT – HGs gathering around the hot tub, but it's not warm yet.

11:45PM BBT – Christine & Joey talk in HN. Joey says she expects to go up.

11:50PM BBT – Caleb continues to obsess over Amber. He's worried she might also be interested in Devin.

12:10AM BBT – Zach camtalks to the Feedsters. He says the 8-team alliance is a joke and way too many HGs, but is solid on his F2 with Frankie. Zach confirms Joey will be renom'd and evicted.

12:40AM BBT – Paola holds another couples therapy session for Caleb and Amber, but just Caleb is there. He likes to talk about Amber a lot. A lot a lot.

1:50AM BBT – Joey and Victoria talking in the hammock. Victoria assures Joey is safe and has her vote. Victoria is not a member of the Bomb-Squad.

3:05AM BBT – Frankie feels bad about voting out Joey, but says it's the right/smart move.

3:25AM BBT – HoH room with Derrick, Frankie, Caleb, and Cody. Discussing Joey as renom and target. Agreed it's the right option.

3:40AM BBT – Frankie again confirms the he gets to play in next HoH comp since he wasn't the surviving HoH. Caleb will not participate, per normal rules.

5:00AM BBT – Caleb and Frankie getting ready to go to bed. Frankie is staying up in Caleb's HoH room since he lost his room. Caleb talks a little more about Amber one more time.
What a wild day and the season is just getting started. Donny won the PoV today and secured his safety. Good thing for him too because he would have likely been the evicted HG. Now Joey is set to be renom'd and most likely evicted. What does this mean for Team America? We don't know!
Next up in the house will be the Power of Veto Ceremony. These are normally held on Mondays, but the first week's schedule is typically atypical, so we'll have to wait and see if it's held on Saturday or Monday.
You can watch all of these Big Brother 16 events using the archives flashback, the DVR-like feature of this year's Live Feeds which means it's always live, even when you missed it! Sign-up now to get the free trial to watch it all live & uncensored.
click images to see full-size