We have our first look at tonight's Big Brother 16 spoilers on how the returning Jury member will be decided. Check out the details below to see the preview picture and read my speculation.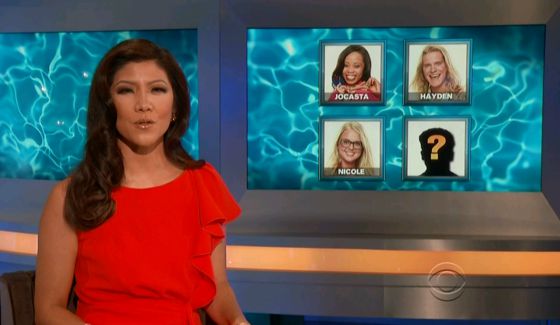 Last season there was one large jumbo endurance competition where all competed together, but that will not be the case this time around. Instead the four Jury HGs will face off in their own competition, but as for what happens to the winner is still not known.
Click the thumbnail below to get the full view:
From what we can see the four evicted HGs will be set up in a simultaneous battle which looks like shuffleboard of sorts. How it works is a guess, but you can see the rings in the center. I'll speculate they slide markers down their lanes and try to get close to the middle with the chance to knock out others along with getting their own markers knocked out.
I think they could end up with more than one marker since there's a basket behind them in the mock-up, but that's another point to consider. This is a mock-up and while they're usually very close to the finished product it is no guarantee.
Also notice the boxing ring style ropes around the game field. We've had "knockout" themed set ups like this before, but that could just be for the hype of the event rather than anything to do with what's involved in the competition.
This one could really be a toss-up. Would Jocasta coming back get you excited? No? You want Zach or Nicole maybe? Share your thoughts!
Source: CBS