While there's been much speculation over the Big Brother 16 cast being split in to two separate groups for the premiere move-in event, we can confirm which Houseguests are divided in to which groups. Read on for those spoilers.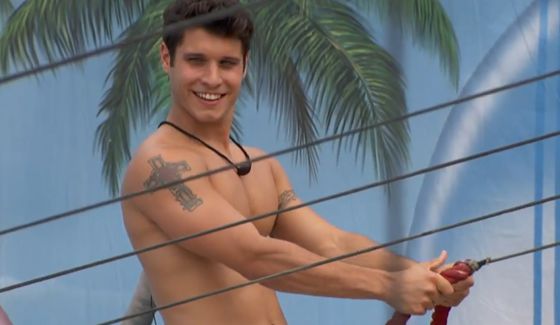 Last night CBS released our first real look from inside the Big Brother house and that came in the form of the first Head of Household competition. Naturally it's an endurance comp as we often see, but with one big difference: only half the HGs were there!
So yes, our reports were accurate. Eight players moved in first and had their own HoH competition before the second set moved in for their own round of battle.
Here's how the Big Brother 16 HGs were divided for the premiere:
Group 1:
Amber Borzotra
Cody Calafiore
Devin Shepherd
Donny Thompson
Frankie Grande
Joey Van Pelt
Nicole Franzel
Paola Shea
Group 2:
Brittany Martinez
Caleb Reynolds
Christine Brecht
Derrick Levasseur
Hayden Voss
Jocasta Odom
Victoria Rafaeli
Zach Rance
click thumbnails to see full-size views
Group 1 moved in first and competed for HoH in "Go Fly A Kite" which is a modification of the "China Shop" comp last year where GinaMarie beat out McCrae for the win.
We do not know what these divisions will mean for the game. Could they be more than groups and become teams? Sure, that's possible, or maybe they'll just mix back together after the move-in for a huge battle royale like we're used to. Got an idea on what could happen? Share it with us in the Comments section below.
Tonight we'll be watching the premiere, which starts at 8PM ET/PT, and live blogging everything that happens so be sure to join us and discuss it all as it happens. You can also join us on Facebook, Twitter, and get our Email Updates so you don't miss a thing all summer!