After a slow start to the Big Brother day the Season 16 Houseguest rose to a fiery Nominations Ceremony and a Battle of the Block competition that left the weaker side of the house wondering just what was going on.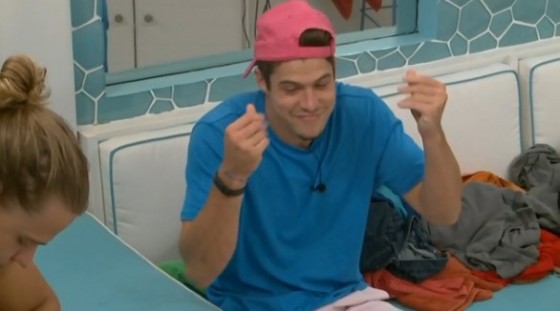 The women of BB16 look ready to be picked off and eliminated if something doesn't happen fast and to their advantage. Of course this is Big Brother so give everything a few hours and that just might happen especially with more Caleb and Amber drama ramping up overnight.
Find out what else happened on the Big Brother feeds Friday.
Big Brother 16 Live Feed Highlights – Friday, July 18, 2014:
7:16 AM BBT – Brittany is still up by herself. She heads in the the bathroom to take a shower.

8:18 AM BBT – Wake-up time.

8:28 AM BBT – Feeds are back. Some HGs are up getting ready for the nomination ceremony.

9:40 AM BBT – Feeds cut. Nomination ceremony time.

12:15 PM BBT – Feeds return. Nominations are still on the memory wall. Frankie nominated Amber and Jocasta and Cody nominated Brittany and Victoria.

12:21 PM BBT – Amber is upset about being the pawn. She doesn't understand it.

12:52 PM BBT – Victoria is blaming Christine for her going on the block.

12:56 PM BBT – Cody, Frankie and Caleb talking about noms and justifying their choices. Caleb also says if he wins veto and Amber is still up, he won't use it on her. He's done with her.

1:02 PM BBT – Victoria is really confused about the nominations. Derrick tells her to just focus on the Battle of the Block competition.

1:48 PM BBT – Brittany says she feels to old to be with the others in the house. She feels like an outcast.

4:20 PM BBT – Feeds return from Battle of the Block. Amber and Jocasta have won the battle.

4:40 PM BBT – Zach talking with Cody and says the target remains on Brittany. They'll use Donny as a renom if Brittany comes down with the Veto.

5:15 PM BBT – Caleb is trying to figure out if Jocasta really wanted to flip the house against him for the last eviction. Donny tells him he doesn't believe Jocasta did that and someone may be trying to set her up.

5:30 PM BBT – Christine goes to the guys with details that Amber is trying to start a girls alliance to target the guys.

5:50 PM BBT – Caleb and Amber talking game. He says there's one guy he'd put up (Cody). She wants to get HoH and put up two guys.

6:05 PM BBT – Brief Victoria drama as she returns from DR and says they said something about her in there. She's crying and we get Fish. (Can't talk about production.)

7:00 PM BBT – Brittany regretting voted out Devin over Caleb. Victoria and Brittany hold a pity party with each other. Both are tired of being there.

7:20 PM BBT – Caleb relaying to Frankie about his conversation with Amber and how she wants to go after the guys.

8:50 PM BBT – Backyard opens back up.

11:20 PM BBT – Frankie talking with Amber about her nomination. He says he won't put her up again and only did it because Cody told him she was okay with being a nominee as a pawn.

11:35 PM BBT – Cody wants to call out Amber on targeting two guys if she gets HoH. Derrick advises him to go about that calmer.

11:50 PM BBT – Amber talking with Derrick, Cody, and Frankie. She says she'd do one alliance member and one non-ally if she were HoH. Amber doesn't trust Zach and might use him as a nom.

12:00 AM BBT – Amber and Cody are joking around on the couch. Caleb walks in and "catches" them. It's uncomfortable.

12:10 AM BBT – Zach antagonizes Caleb to go after Amber and call her out. He's trying to convince Caleb that Amber needs to go next. Caleb wants Zach to do the calling-out.

1:35 AM BBT – Caleb, Derrick, and Zach agree that Amber should be their next target if she doesn't win HoH.

1:45 AM BBT – Amber talks to Christine and Nicole about teaming up to go after the guys. Amber wants Zach out quickly.

2:05 AM BBT – Zach hints that Victoria was upset after her DR session earlier because she was called out on breaking rules, but he can't elaborate.

2:20 AM BBT – Christine relaying to The Detonators about Amber's F3 offer. They agree Amber needs to go.

2:30 AM BBT – Caleb and Amber talking. He's upset at her and says it's like she spits in his face and "steps on his balls." Caleb is basically saying how jealous he is of her spending time with Cody while trying to say he's not jealous. It's just more of what you'd come to expect from this weird situation.
Everyone seems to be planning weeks out ahead of themselves instead of focusing on the present week which still has a LOT up in the air. We've got the Power of Veto competition today and if Donny wins it then he should be safe, but we don't even know if he'll play. If Brittany or Victoria wins it then Donny could be in some danger. Gotta wait and see if Detonators come around again on this idea of going after Caleb since Amber is untouchable this week after her BotB win.
You can watch all of these Big Brother 16 events using the archives flashback, the DVR-like feature of this year's Live Feeds which means it's always live, even when you missed it! Sign-up now to get the free trial to watch it all live & uncensored.
click images to see full-size