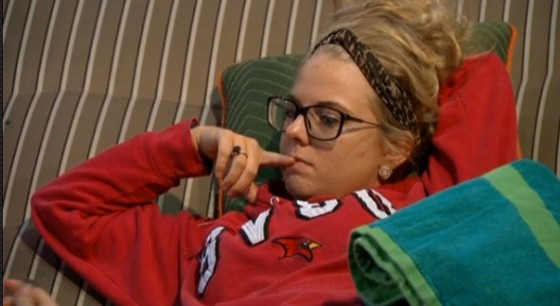 In quite possibly the most boring day in the house, the Big Brother 16 HGs at least got to find out from fans outside the house who America is really rooting for: Zach. But seriously, Big Brother is going to have to give these people booze if they're this quiet at final 9. Find out what else happened on the Big Brother Feeds in the house overnight.
Big Brother 16 Live Feed Highlights – Monday, August 11, 2014:
 4:00 PM BBT – Absolutely nothing going on. Not even sure anyone aside from Donny is awake.

5:25 PM BBT – Nicole telling Victoria she's creeped out by how much Christine flirts and is all over Cody. She says they're way too close considering she's married.

5:33 PM BBT – Derrick and Christine agree they want someone who actually played the game to win.

6:55 PM BBT – Nothing is going on. HGs are making dinner, working out, and chatting.

8:00 PM BBT – HGs talking about traveling to space, space stations and Google maps. No, I"m not kidding.

8:32 PM BBT – Victoria hugs Derrick. She says she wants to be the last girl in the house, not Christine. He tells her he wants her and him to be the last people in the house period.

8:44 PM BBT – Nicole is talking to Victoria about how awful Christine is and how she makes fun of everyone and hates everything. They also think she and Derrick are becoming too close.

9:04 PM BBT – Victoria is worried what people will think about her hanging out with Nicole. Derrick tells her it doesn't matter who she hangs out with. Victoria does say she'll feel bad voting out Nicole.

9:10 PM BBT – Nicole crying to Cody. She's upset that she's going home.

10:03 PM BBT – Cody and Derrick talking about next week. Cody thinks they should put up Zach and Donny. Derrick says it depends on who wins HOH.

10:17 PM BBT – Fans outside the backyard yell "We Love Big Brother" and "I Love You Zach!" The HGs go on lockdown. Derrick asks Christine if he should tell Zach. She says no. Then she says it's disgusting that he has fans. Then talks about how horrible it is that Evel Dick has fans.

10:22 PM BBT – Derrick tells the others. They talk about how cool it is. Feeds cut for some reason.

10:45 PM BBT – Feeds return.

11:00 PM BBT – Cody tells Derrick if anyone other than them win the game he'll be so mad. He thinks no one else has played the game like them (Not sure what Cody has done, but OK).

11:04 PM BBT – Derrick says Donny needs to go next, then Victoria. Cody doesn't want to be in the house with Frankie and Zach much longer, though, he says. He suggests Frankie or Zach go after Donny.

11:34 PM BBT – Frankie and Zach talking about how much better they feel about each other now and that they love each other more than ever.

11:50 PM BBT – Nicole and Victoria talking about how there will only be two girls left after this week. Victoria says she has to win HOH.

12:09 AM BBT – Nicole says the only person she'd be upset with winning the game is Christine. She then starts figuring out the best way to get people to flip and keep her. Nicole asks Victoria if she'd vote to keep her if she got Derrick & Cody to go along with that too. Victoria thinks it's unlikely.

12:45 AM BBT – Cody talking with Derrick and worried about a Juror returning to the game and exposing them. Cody thinks they could work with Hayden if he came back.

1:05 AM BBT – Derrick tells Victoria that Joey ruined the chance of an all-girls alliance with how she handled it. Derrick denies there was an all-guys alliance that needed to be combated.

1:50 AM BBT – Zach tells Frankie how close he came to be evicted this week and how the house was planning to send him out. Frankie doesn't seem to believe it but is hurt by the news.

2:00 AM BBT – Realizing his goodbye message was too mean since Nicole will be in Jury, Zach wants to go redo it.

4:00 AM BBT – HGs wrapped up the night and are going to sleep. Frankie camera talking about how relieved he is to have revealed his secret of Media Mogul status and how he doesn't think it negatively impacted him in the house.
Not much is happening yet, but Nicole is starting her campaign trail. But most people's heads are already into next week. It'll take some hard work on her part to convince the house (Derrick) that she should stay.
You can watch all of these Big Brother 16 events using the archives flashback, the DVR-like feature of this year's Live Feeds which means it's always live, even when you missed it! Sign-up now to get the free trial to watch it all live & uncensored.
click images to see full-size