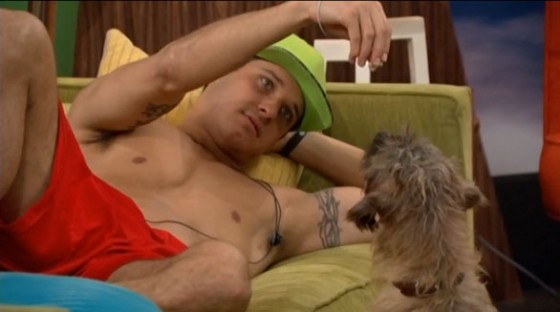 The Big Brother 16 house guests finally had an early morning and busy day as Izzy the dog showed up at the door. The HGs spent the day playing with Izzy and seemingly getting their minds off the game. Find out what else happened on the Big Brother Feeds in the house today.
Big Brother 16 Live Feed Highlights – Tuesday, September 9, 2014:
8:30 AM BBT – Feeds cut. Wake-up time.

9:04 AM BBT – Doorbell rings. Izzy, the dog shows up and joins the HGs.

9:09 AM BBT -Izzy exploring. HGs think she's a rescue dog.

9:16 AM BBT – Derrick thinks the dog means they sleep too much and are too boring.

9:44 AM BBT – Izzy tries to eat the carpet.

9:58 AM BBT – Derrick tells Caleb he talked to Victoria last night about her going home. He said she cried. He implies she's upset with him (Derrick wants people to think Victoria won't vote for him in the end).

10:40 AM BBT – Victoria playing fetch with Izzy.

11:22 AM BBT – Izzy is in the DR. (presumably to go to the bathroom). HGs say they miss her.

11:44 AM BBT – Frankie has a new theory on the button. He wonders if it means there are no more HOHs and the people who do the worst in the comps are nominated.

11:47 AM BBT – Frankie brings Izzy and the HOH camera out of the DR.

12:34 PM BBT – HGs are taking photos with the HOH camera. Lots of Izzy photos. BB gets onto the HGs for jumping into the pool.

1:04 PM BBT – Caleb puts Izzy in the storage room for production to do whatever.

1:40 PM BBT – Caleb is still trying to catch the imaginary mouse.

2:00 PM BBT – Indoor lockdown.

2:10 PM BBT – Izzy returns.

2:42 PM BBT – Victoria and Derrick are talking about how the guys never asked her about what she and Derrick talked about. She said if they don't she'll make sure to talk crap about him in her eviction speech (again, to make people think she won't be voting for Derrick in the end).

3:05 PM BBT – Derrick is ironing (exciting).

3:12 PM BBT – Caleb and Cody are breakdancing.
You can watch all of these Big Brother 16 events using the archives flashback, the DVR-like feature of this year's Live Feeds which means it's always live, even when you missed it! Sign-up now to get the free trial to watch it all live & uncensored.
click images to see full-size