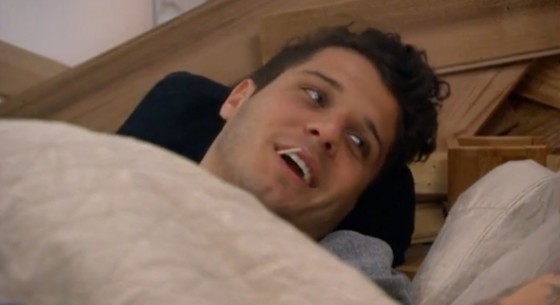 Cody decided to not shake things up in the Big Brother 16 house during today's Veto Ceremony, so there wasn't a lot of daytime action on the Live Feeds. Find out what else happened on the Big Brother Feeds in the house today.
Big Brother 16 Live Feed Highlights – Monday, August 25, 2014:
9:05 AM BBT – Feeds are out. Wake-up time.

9:18 AM BBT – Feeds come back. Victoria and Donny are awake.

9:35 AM BBT – Donny asks Victoria how she is feeling. She says she's feeling better.

10:07 AM BBT – Nicole up getting ready.

11:10 AM BBT – Feeds cut for veto ceremony.

11:44 AM BBT – Feeds return. Cody did not use the Veto. Nicole is embarrassed over something that happened. Donny says he's been on the block the entire season. Donny and Nicole agree they've had it the worst in the house.

12:06 PM BBT – Victoria tells Nicole there's no way the votes will change this week. She says Donny is going home and Nicole is staying.

12:20 PM BBT – Cody and Christine are talking about what happens if next week doesn't work out to where Nicole goes home. Christine says Victoria goes. They both seem nervous about that actually happening.

1:05 PM BBT – Victoria is making tofu and Donny is making slop. Donny is asking Victoria questions about her making slop and she seems to be getting offended. She asks why he's so negative. 2:08 PM BBT – Most HGs are napping and doing nothing.

2:59 PM BBT – Victoria telling others that Donny was rude to her and that she called him out for it.

3:15 PM BBT – Nicole and Donny are talking. Donny talking about how his social game was mild because he didn't want to "rule the roost" with all the stories he has. He tells Nicole he really liked Hayden and Zach.

3:20 PM BBT – Donny tells Nicole he'll whisper to her his advice for targeting when he walks out the door. She says she'll do the same if it's her going.

3:35 PM BBT – Derrick thinks he got positive feedback from the DR about their flop of a "Broadway!" play that HGs didn't want to do and required production to call a false lockdown to force HGs in to doing it. Yep.

3:40 PM BBT – Donny continues to work Derrick about keeping Team America together. Donny reminds him he didn't nominate anyone from their group when he was HoH. Derrick does not give him much hope in response.
You can expect some Donny pleas from now until Thursday, but I don't know if you'll see him get anywhere. Unless Derrick changes his mind. You can watch all of these Big Brother 16 events using the archives flashback, the DVR-like feature of this year's Live Feeds which means it's always live, even when you missed it! Sign-up now to get the free trial to watch it all live & uncensored.
click images to see full-size