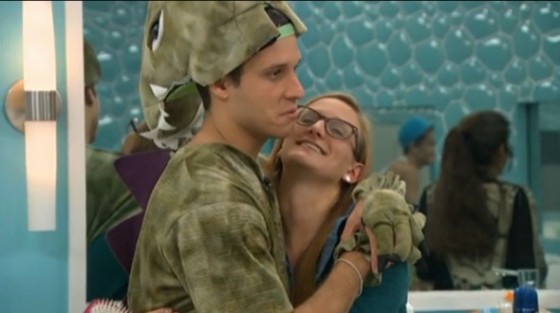 There's not much talk going on about this week of Big Brother 16, but there's a lot going on about what the HGs have planned for the double eviction and beyond. I think this isn't good news for Nicole as no one is talking about keeping her this week. Find out what else happened on the Big Brother Feeds in the house today.
Big Brother 16 Live Feed Highlights – Tuesday, September 2, 2014:
9:30 AM BBT – Wake-up call as all HGs were sleeping.

10:05 AM BBT – Caleb telling Derrick about his conversation with Frankie. He says Frankie thinks he doesn't trust him now. Caleb says he told Frankie it was his idea.

11:30 AM BBT – Nicole talking to herself about how to figure out a way to stay this week. She says she needs to talk to Caleb.

11:47 AM BBT – Derrick tells Caleb that Victoria told him she'd never vote either of them out.

12:00 PM BBT – Derrick tells Frankie the exact thing he told Caleb. (Derrick is totally going to take Victoria to the Final 2 if he has his way).

12:36 PM BBT – Derrick is fluffing Victoria's ego, telling her she's better and prettier than Christine.

12:44 PM BBT – Caleb still thinks he has a date with Amber waiting for him when he gets out of the house.

1:00 PM BBT – Frankie taking control of the HOH camera like he does everything else.

3:06 PM BBT – Caleb and Derrick are talking about getting Christine to put up Frankie. Then Frankie comes over and they tell him things Christine has been saying so he says Christine needs to go up. Cody's trust comes up during all this. So in all this, Caleb and Derrick are sounding pretty safe right now.

3:15 PM BBT – Now Cody and Christine are bashing Frankie. They talk about how much they dislike his game and they both agree he needs to go before Victoria. They talk about how Frankie ruins anyone's game who he is close to (they mention how Frankie messed up Zach's game).

3:25 PM BBT – Frankie tells Derrick he saw Christine and Cody talking by themselves. Derrick says she's trying to get Cody all to herself.

4:35 PM – Caleb is talking about how Christine is clearly in love with Cody.

5:15 PM BBT – Game talk has ceased. HGs are eating dinner and having general conversations.

5:43 PM BBT – Indoor lockdown. Derrick says he thinks he heard someone yelling his name outside. Sounds like the fans were at it again.

7:00 PM BBT – Since the lockdown started, the HGs have said and done nothing of note.

10:47 PM BBT – Frankie asks Cody if he's worried he's going to put him up. Cody says no and that he trusts him. He asked if Caleb said that. Cody said he's not worried about Caleb's momentary paranoia and that Cody didn't even think it was worth talking about. They promise to not turn on each other.

11:35 PM BBT – Christine is crushing Frankie to Derrick. She hints that if it's a double eviction, she's targeting Frankie.

12:10 AM BBT – Frankie tells Derrick he would have been devastated if the guys had BD'd him this week.

1:30 AM BBT – Derrick talking with Cody about who would be targeted. They believe Frankie would go after Christine and Christine would go after Frankie.

2:05 AM BBT – Frankie with Caleb in HoH room. Frankie says he wants to stick together until the F4. They debate Derrick's position in the game and say everyone likes him and thinks they could beat Derrick at the end, but they do not know who Derrick would take.

2:20 AM BBT – Frankie has asked Caleb who suggested they BD Frankie. Caleb trying to explain without implicating anyone, but it's not going well.

2:30 AM BBT – Caleb suggests Cody was hoping to keep Nicole because he thought he had Nicole under his control.

2:35 AM BBT – Caleb relays Derrick saying he's okay with winning $50K, but Frankie says that's nonsense. Frankie implores Caleb not to throw the F5 competition as Derrick may try to sneak Victoria to the end and send one of them home. Caleb says Derrick is the most trustworthy player of the group.

3:00 AM BBT – Derrick and Frankie talking game alone in the kitchen. Frankie is nervous about putting Christine up in case she stays. He thinks Cody might have turned Christine against them.

3:50 AM BBT – Frankie testing Victoria out for support. Victoria promises she'd vote to keep Frankie.

4:00 AM BBT – Derrick and Victoria wrapping up the night and discussing if the other goes. Victoria tells Derrick he's the only HG she wants to win at this point.
So this double eviction is going to be intense. No matter what happens, you can bet on that. You can watch all of these Big Brother 16 events using the archives flashback, the DVR-like feature of this year's Live Feeds which means it's always live, even when you missed it! Sign-up now to get the free trial to watch it all live & uncensored.
click images to see full-size