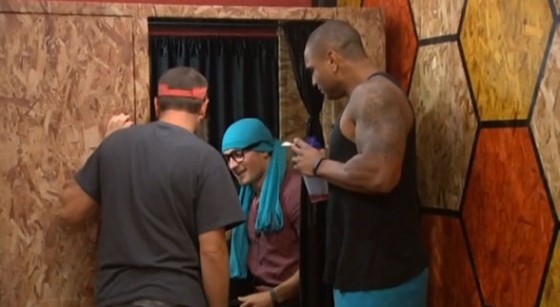 It was a very quiet Sunday in the Big Brother 16 house, but that doesn't mean the house guests didn't have fun. There were plenty of game discussions and silly antics for you to catch up on.
You can rewind your Feeds using Flashback to catch all of these events over again like it's happening live. Don't have your account set up yet? Grab the Free Trial and see what other fans are watching.
Big Brother 16 Live Feed Highlights – Sunday, July 13, 2014:
8:15 AM BBT – Zach and Cody get back up after a very brief nap. They decide to make omelets.

8:34 AM BBT – Cody and Zach admit to having crushes on Brittany.

9:25 AM BBT – Zach and Cody have finally gone to bed.

10:00 AM BBT – Feeds are down. Wake-up time.

10:25 AM BBT – Feeds are back. HGs moving about. Jocasta, Devin, Hayden, Donny and Nicole are outside sitting on the couches.

11:55 AM BBT – Donny is talking to Nicole about Zach being related to Amanda from Big Brother 16 (the Team America mission). She says she can see a resemblance.

1:10 PM BBT – Derrick and Donny discuss the Team America mission. They got Nicole and Victoria to buy it.

2:00 PM BBT – Derrick and Nicole are talking about the veto ceremony. There's some concern that Donny won't use the veto. Derrick is afraid Devin has or will threaten Donny not to use the veto on Jocasta.

3:13 PM BBT – Photo booth is open. HGs are taking photos.

6:32 PM BBT – Christine and Amber are talking about how Donny will need to be backdoored when his time comes (which seems to be soon as Christine says he's "done for").

7:16 PM BBT – Frankie gives Zach a kiss while Zach is in bed. When he walks away, he says he's kind of in love with Zach.

9:11 PM BBT – HGs get an indoor lockdown. Apparently people were outside the studio shouting "We Love Big Brother!"

9:45 PM BBT – Cody says he'll nominate Jocasta and Victoria if he wins HOH.

11:05 PM BBT – Christine, Frankie and Zach are discussing who they'd put up next week. They all agree they'd put up Victoria and Jocasta with plans to backdoor Donny.

12:15 AM BBT – Derrick now telling Caleb about the "rumor" regarding Zach and Amanda. He wants Caleb to ask Amber what she thinks.

12:40 AM BBT – Amber and Brittany talk with Derrick to make sure everything is still going as planned. They are worried that Devin might not get renom'd like they expected. Derrick promises all is well and at Monday's Power of Veto Ceremony Devin will be named as the renom. Should Donny try anything funny then he'll become the next target.

4:25 AM BBT – Caleb tells Amber about the Zach rumor. Another point for the mission. That's at least two of the three they need to succeed.
So Donny might be working on being America's favorite, but right now he's on a lot of radars in the Big Brother 16 house. Do you think Donny can get out of this mess?
You can watch all of these Big Brother 16 events using the archives flashback, the DVR-like feature of this year's Live Feeds which means it's always live, even when you missed it! Sign-up now to get the free trial to watch it all live & uncensored.
click images to see full-size