The Big Brother 16 Feeds offered up some interesting discussions yesterday as the Houseguest numbers continue to dwindle and tough decisions will soon need to be made. With Frankie Grande back in a vulnerable position, will this finally be the week to take him out?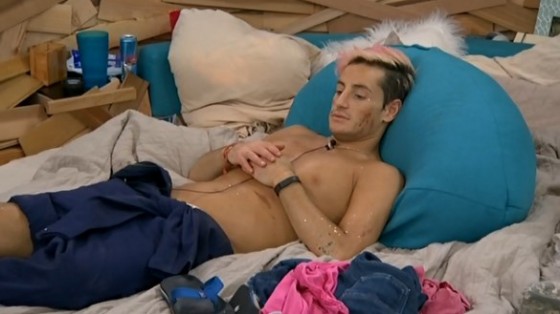 As the house majority alliance featuring Derrick, Cody, Frankie, Christine, and Caleb gathered on Saturday to review the potential scenarios for post-Veto decisions we saw an interesting cascade of discussions. Flashback to 1:00PM BBT 8/30 as Christine has just left and the guys continue to talk.
Caleb, who has been pushing the idea of maintaining all five of the allies sticking together, raises the question: do they care more about fame or the game? How is this even a question? Caleb's concern here is that if the five of them reach F5 then he says that will be the largest, most powerful alliance to stick together until that point in the game.
While Caleb has recently made strong moves and pivoted to improve his position in the game, it's perplexing to find him hung up on a footnote in the season rather than concerning himself with making strategic moves. Moves like Backdooring Frankie.
Once Frankie left the HoH room the remaining guys (Caleb, Cody, and Derrick) start to discuss Frankie and his place in their alliance. Flashback to 1:25 PM BBT as the guys compare notes on Frankie.
Caleb makes a big statement to Derrick and Cody, though it's one we've heard from him before in various forms. Caleb says he wants to go to the F3 with them instead of Frankie. He also notes, "Frankie and I are close, but we're not that close."
Caleb knows Frankie has abused his trust on multiple times and thrown him under the bus. Those moves have come back to hurt Frankie, but Caleb isn't letting Frankie know that he's on to him.
Derrick doesn't waste the opportunity of this discussion's momentum to list off all the reasons why Frankie is such a strong player in the game. He wants Caleb to have these thoughts in the back of his mind well before any Veto Ceremony decisions have to be made.
Of course this was all done before the PoV comp was held and most of the decisions were made with the caveat of Nicole coming down. Now instead we'll see Christine escape the block with her Veto win and a new player join Nicole for possible eviction. Could it be Frankie going up?
The HGs have wasted opportunity after opportunity to get Frankie out. He's a strong player with a strong win record and here they again have him without a chance to defend himself. Starting next week all remaining HGs will compete for the Veto. This is the LAST chance to Backdoor a player.
It's beyond frustrating to watch these HGs lament over Frankie remaining in the house and how he's betrayed them and wronged them in this way and that way. He's a sitting duck and I honestly don't think Caleb will pull the trigger on this plan. If Caleb is more worried about "fame" than "game" then he'll put up Victoria, let Nicole go home, and stick around with Frankie as a threat to Caleb's F3 plans.
Update: I will gladly eat my hat on this one as Caleb may prove me wrong. More soon.
There is still about a day and a half before the Veto meeting and there's always a chance we'll see some action on this front. HGs are generally annoyed with Frankie and Derrick has been busy planting seeds. If someone leans on Caleb then I do think there's a chance, but if they sit back and wait for it to happen on its own then Caleb will not make this move.
What do you think about the potential for Frankie to be Backdoor'd this week? While many fans are anxious to see him go we have to consider if the HGs will see this as a smart move for their own game with more than three weeks to go. What do you think?