The Big Brother 16 Jury Houseguests have been out of the game for a little over a week now and many are excitedly returning to family and friends while still keeping in touch with one another. Here are a few highlights you'll want to catch up on from some of the more prolific Twitter-ers in the group this season.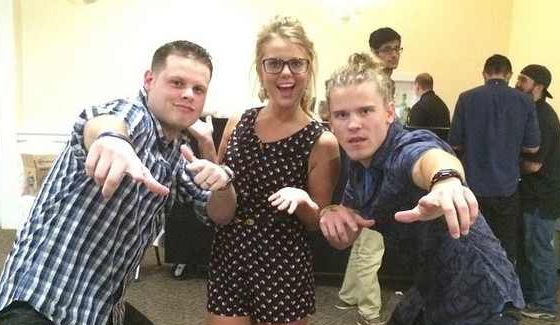 First up perhaps the most major news for Donny Thompson was that he joined Twitter! No wait, something bigger happened… engaged! Yes, Donny is officially engaged to his girlfriend Kristine and it didn't take long. Now he's also assumed a Twitter account set up for him by a fan during the summer.
click images to see full-size
Speaking of showing up on Twitter, after days of silence Zach Rance has arrived to the cheers of his fans. His pursuit of legions of followers reached a milestone this week when he hit 200K (currently at 204K) and all without the support of a celebrity sibling. Then again, he does have Pizzle to thank.
click images to see full-size
As for celebrity support, Zach spent some time on the phone talking with Dr. Will Kirby this week and referenced him as a mentor. Could he have been one of the few HGs Will said he advised preseason?
Beast Mode Cowboy is living his dream hanging out with fans, celebrities, and getting back to BMC's natural habitat, the gym. Cody Calafiore has been getting out there too as he gets used to life outside the house. Nicole Franzel had herself a nice welcoming party on her return and even Victoria Rafaeli has officially joined Twitter.
click images to see full-size
Then you've got the big time winner Derrick Levasseur who definitely looks happy to be back home with his wife and little daughter. Derrick has been chatting it up on Twitter and along with many of the other BB16 Houseguests, he's done an "On the Block" with Spencer & McCrae that you can watch on YouTube.
click images to see full-size
We'll keep watching to see what the Houseguests get up to next which should be plenty in the coming months. We know for sure that you'll be able to tune in and watch half the cast appear on Bold & Beautiful on October 30th & 31st so don't miss that!
Update: Some readers asked for "more Nicole!" so how about some Haycole? The couple traveled to New England for a meet & greet alongside Derrick at the Marlborough Country Club. Looks like they were having fun and fans were excited to meet them!
click images to see full-size
Image source: Twitter & Instagram