The past several nights Feedsters have watched as Frankie Grande took over Christine Brecht's Head of Household room entirely to himself. Does he deserve the HoH bed all for his own or is he overstepping his boundaries?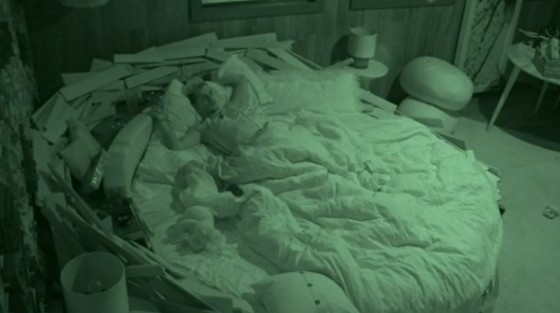 Now on his third night in the upstairs suite Frankie has been resting away in solitude while Christine slept downstairs in the Rock room. Why? Christine willing gave it up and Frankie says it's justified.
Flashback to 4:00AM BBT 8/12 Cams 3/4 to listen in as Frankie talks to the cameras:
"I'm sleeping in Christine's HoH room. Which I'm not too pissed off about because obviously… I don't feel guilty about it is what I'm saying, because you saw. I am the only reason she's HoH. So… *smacks lips*"
Frankie by no means forcefully kicked Christine out of her room, but why did she not stay up there? As fans pointed out, Christine admitted that she's trying to avoid appearances of being too close with Frankie and when he insisted on sleeping in her room she had to move downstairs to avoid the optics of collaboration.
Update A reader adds another time to check. 10:35PM BBT 8/10 Cams 3/4. Christine tells Victoria Frankie demanded access to her room at night, so she left.
Stacking this on top of Frankie's reveal that he's related to someone famous which in turn makes him believe he is super famous & a tad elite too might not be the best of ideas. There's a lot of value in playing a humble game in Big Brother and that's definitely not Frankie's method right now.
Of course you often only have what you can take in the Big Brother house as long as you're willing to risk the consequences.
What do you think of Frankie taking over Christine's HoH room? Did he deserve it or should he have reversed course when she wasn't willing to stay there with him? Share your thoughts!