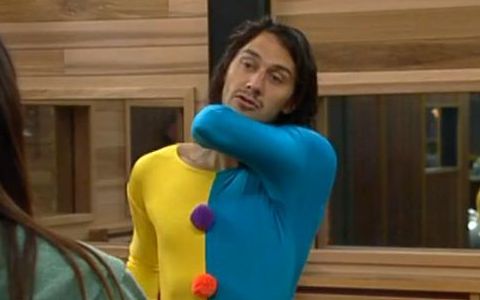 The Big Brother 15 weekend is wrapping up so here's a quick rundown on what you might have missed since the last episode. The Live Feeds never stop so we're always watching and that keeps us, and you!, way ahead of CBS.
Here's what's been going on and yes, there are many spoilers below.
Head of Household – Week 7:
Late Thursday night the most recent Head of Household competition was held. Fresh off the double eviction the HGs faced off in a tournament bracket series of rounds. Andy emerged as the winner and viewers as the losers when he promised he would not be making any "big moves" this week. Smart move for him, dull one for us.
Have-Nots – Week 7:
There was no Have-Not competition this week. Instead Andy, as the new HoH, had to handpick this week's unfortunate HGs. Luckily for Andy he got four volunteers. Aaryn, Elissa, GinaMarie, and Helen will be sleeping on plane benches and eating mung beans with mackerel. Mmm.
Nominations – Week 7:
After a day of holding court in his HoH room Andy was ready to put two HGs on the chopping block late Friday night. His intentions were made clear in an early talk with Amanda: Spencer and Jessie. Jessie would be the target with Spencer as the pawn. If Jessie won Veto and came down then GM would be the renom and become the new target. Turns out they wouldn't have to worry about that.
MVP – Week 7:
No MVP this week or anymore this season. That twist was brought to an end so there are just two nominations this week instead of three.
Power of Veto – Week 7:
Keep in step with the late night events the PoV was held at the end of the day on Saturday. HGs faced off in the quantity guessing competition where they had to stay or fold. Andy turned his previous win in to a mini-streak by capturing the Veto for his own.
What's next? – Week 7:
On Monday the Power of Veto Ceremony will be held where Andy gets to announce his decision to not use the Veto. This will be the first time in BB15 the Veto is not used.
Andy has promised Jessie safety, but it's a lie. Unless something major happens between now and Thursday then Jessie will be evicted and Spencer will survive to be mega-pawn another week.
HGs are hoping for Pandora's Box to livening things up. I'd settle for just about anything otherwise we may be in for a snoozer until next Thursday.
Join us on Facebook, Twitter, and get our free email updates for all the latest Big Brother news, results, and spoilers all season. Thanks for joining us here!