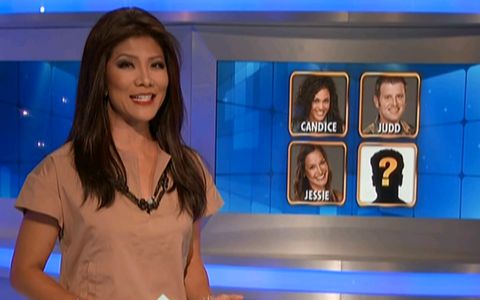 Last week host Julie Chen revealed a twist was heading our way that would keep the Big Brother 15 Jury members in the game. She then also cryptically told the evicted HGs that it was a long summer and that this was "goodbye for now." None of them seemed to take notice, but we sure did!
Based on Julie's comments I detailed out why I thought a HG was returning to the game and last night our suspicions were confirmed. Some thought the Jury might be involved in eviction votes or nominations somehow, but nope, we knew better and that's why you visit us for BB info!
At the end of last night's live show Julie announced "for the first time in Big Brother history, a Juror will return to the game. Candice, Judd, Jessie, and the HG evicted next week will compete to see who gets a second shot at the half-million dollars."
McCrae has been suspicious that something like this could happen and has even advocated evicting Elissa in case it's America's Vote as he suspects she'd be the one voted back in. According to Julie it won't be a vote and will instead be a live competition on next Thursday's show. Branden gave a few joke ideas for the competition:
twitter-tweet">

Returning player comp ideas for next week: 1. frog gigging. 2. Translating an episode of Honey Boo Boo. 3. Wearing bear shirts. #BB15

— BRANDEN! (@branden628) August 16, 2013
So what do you think of having an evicted HG come back? Does that negatively impact the game or give someone an unfair advantage? Vote in our poll below and share your thoughts on which evicted HG you'd like to see return to the game.