Picking up where we left off yesterday we've got the second half of the Big Brother 15 Top 10 moments from the season. If you missed events 10 through 6 then jump back here first and get caught up. Now on to the rest of the list.
#5: Fight Night – "Whatcha Gonna Do Girl?"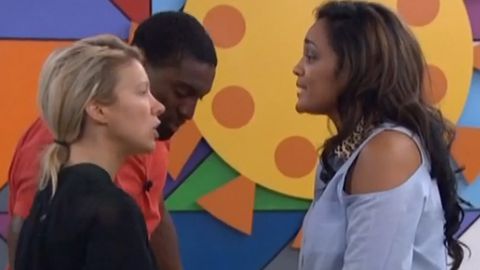 We saw some wild arguments and fights this season but none come close to the impact of what happened back on July 12th following Nick's eviction in Week 2. Candice and Aaryn had already been butting heads over Aaryn's hat and adding in a dose of a very emotional GinaMarie pushed things over the edge. Of course, having the Mean Girls alliance on the ropes with Helen's HoH win didn't help the situation.
Aaryn came in to the back bedroom and flipped Howard & Candice's bed up against the wall. When Candice confronted Aaryn over it the Mean Girls attacked together, each calling out hateful, racial remarks at Candice. GinaMarie even got up in Candice's face before she had to be carried out of the room by Howard who wanted to avoid the fight.
Howard and Candice faced a long night of tears and frustration over the treatment they received. It wasn't the first we had seen of terrible, racially-driven attacks from GinaMarie and Aaryn, but it sure kept the landslide moving.
#4: Double Eviction blindsides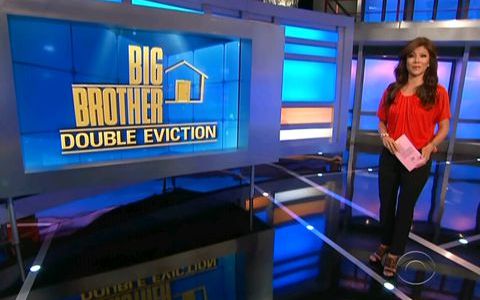 On a much more entertaining note, the Double Eviction blindsides didn't disappoint this year. We got not one, but two high-intensity nights this season and while the first was personally disappointing for me both delivered on the drama.
First up we saw Candice head out and no one was surprised, but when Aaryn won HoH followed by the Veto most were surprised to see Judd in the hot seat. Helen worked her angles and got what she wanted: Judd's eviction. HGs were left in tears and Judd was left in shock.
Round two of the DE's was way bigger. Leading in to the eviction night both nominees were promised safety but when the time came Andy flipped his vote and Amanda went out the door. She wouldn't be the only big target that night though when McCrae managed to secure his own safety and force the Exterminators to shift their plans and eliminate Elissa. Both ladies were two of the biggest players this year for the attention and support they received. Their departure was a loss for dynamics of the game, but at least they went out in grand fashion.
#3: Amanda runs the house and then gets run out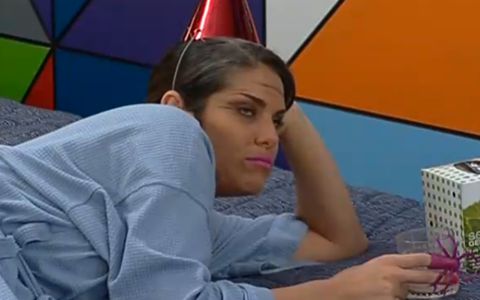 I'm not sure we've seen someone with so much control and so little actual power in years. Amanda jumped in to the HoH bed in Week 1 and never looked back. She intimated HGs and manipulated HoHs like nobody's business. The only thing she couldn't do was pull off a win of her own. Sure, she eventually got one, but it only delayed the inevitable at that point.
Somehow, even when Amanda was most vulnerable as America nominated her twice in a row she managed to escape eviction. "Not this week" was the preferred line when the idea was floated of sending her home. Everyone was so afraid of her they were even too afraid to vote her out!
Eventually the task fell to GinaMarie but it was really just a matter of being in the right place at the right time as any of the Exterminators would have made that move. But credit where it's due, when the nominations were over GM didn't back down and she didn't cower before Amanda's outrage. The Exterminators stuck together and voted Amanda out just a few rounds shy of the finish line.
Yes, Amanda was abrasive, obnoxious, and couldn't stand up against half the attacks she aimed at others, but she gave us something to talk about each week.
#2: Floating finish to a "No Floater" summer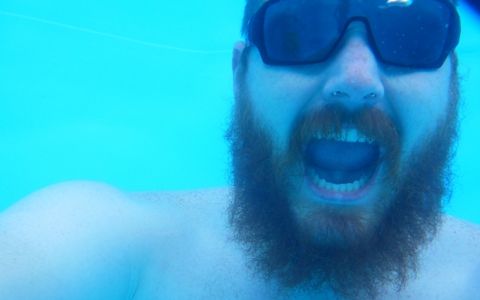 During the BB15 preseason host Julie Chen promised us a season free of floaters. It'd be a "No Floater Summer" we were told. Ahh yes, how'd that work out? We're now looking at a Final Three consisting of Andy, GinaMarie, and Spencer.
From the last 3 HGs it's hard to pick who was the biggest floater. I'd usually qualify that on a HG moving from power to power, but who ever really took Spencer in? No one. He was just used as a pawn over and over and managed to survive. You really couldn't call him much of a player though because try to name one move he made.
Then you've got GinaMarie who was a bit of a victim of her Blondentourage alliance being demolished and her floating off in to Big Brother space to drift aimlessly. She did usually manage to become buddy-buddy with whoever had power, but she tended to be friendly with everyone else at the same time.
Last, there's Andy, everyone's "closest ally." He worked with Helen, then he worked with McCranda, then he worked against Helen, then he… who knows where Andy really stood, but he sure moved around alot.
It wasn't until the very end that these three formed a new alliance together, but I don't think that really "exterminates" their past behavior in the house. Keeping your head down and going with the group turned out to be the best move you could make all season and it's going to net someone a half-million dollars.
#1: Season of Hate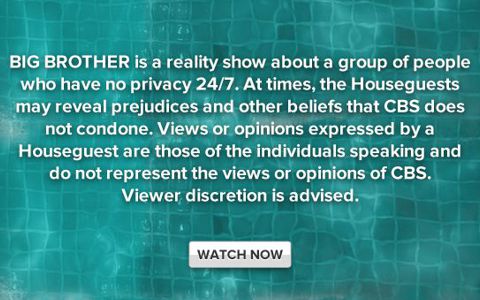 There's just no way around this one. We were just days in to the BB15 season when Aaryn Gries and GinaMarie Zimmerman began unleashing their racial hate. Amanda and Spencer soon starting using homophobic slurs when talking to Andy. Guy after guy began using degrading comments against women inside and out of the house. Then there were even attacks on HGs' children. It was simply the most bizarre, "what are they thinking and what the heck is wrong with them?" season of behavior.
While it seemed like HGs were warned to knock it off they soon started it up again and it never really went away. Back home Aaryn and GinaMarie lost contracts and jobs. Spencer received a "we don't agree with him" disclaimer from his employer. Eventually CBS had to start flashing a disclaimer in front of the Feeds and every broadcast show.
One of the most frustrating aspects of all this hate was that it made it practically impossible to root for so many of the HGs. Aaryn turned in to a competition beast and was pulling out wins with her back against the wall, but how do you root for someone like that? Their behavior managed to suck the fun out of too many events and shift the focus from the game to whatever awfulness they were up to that day.
It was a sad and disappointing result with much of the HGs. And since CBS has confirmed that yes, there will be another season, I think we can expect a return of former HGs that are known quantities or older, more closely screened cast members. I imagine this season will be remembered for many things, but it won't be for great game moves.
So there's my list. I'm sorry to have ended it on that note, but there it is. Honestly, it wasn't nearly as easy to write this top ten list as it has been in the past. Yes, I still love the Big Brother game and yes, I do believe CBS can get BB back to its glory days. At this point I'm just ready to move on and wait for a new season.
What makes up your Top 10 list for Big Brother 15?