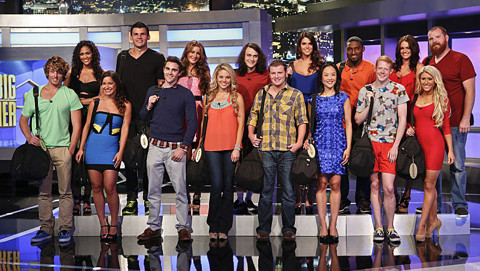 Big Brother 15 has arrived. The new series is kicking off tonight on CBS at 8/7c and we're here with you offering up a recap of the show as we enjoy the premiere.
During tonight's show expect to see all sixteen houseguests introduced as the new season's casts. They'll get a clip show of their background along with their key discoveries. Once we meet them all they'll gather in front of the house, be split in to four groups of four and head inside. Watch that scene in this sneak peek video.
First group: GinaMarie, Judd, Candice, & Andy
Second group: Jeremy, Kaitlin, Elissa, & McCrae
Third group: Helen, Nick, Howard, & Jessie
Four group: Spencer, David, Aaryn, & Amanda
Part of tonight's show will be the reveal of the season's twists, or at least what Julie is ready to reveal to them. As we saw in her leaked script she's going to be holding back some details. They should learn about the 3 nominees in tonight's show.
From there the BB15 HGs will meet and greet before heading out to the backyard for their first Head of Household competition challenge. It's an endurance battle again this season. Players have to hold on to giant popsicles as they hover over the backyard and get slapped by a giant tongue. Sexy time. Last HG holding on will be the first Head of Household for the summer and decide two of the first three nominees.
Tonight's Head of Household competition is called "Popsicle Factory." Each HG climbs on their popsicle, is lifted in the air, and the last to drop will be the winner.
Judd is the first to drop off after just over five minutes. Howard goes next after seven minutes, but says he threw it (I believe him). Candice drops third.
Amanda holds on awhile longer before dropping with Spencer not far behind. And now they just keep falling.
Oh, and in the middle of all of this, Judd figures out Elissa is Rachel Reilly's sister.
Six are left with Kaitlin, Aaryn, David, Jeremy, Nick, and McCrae.
Kaitlin falls after more than five hours leaving Aaryn as the final girl hanging in there. She's the next to go though which means a guy is going to win.
With four players left Julie breaks out some bribes. Wow! There are two lunchboxes in the kitchen, and one of them holds a "No Have-Not All Summer Pass." The other one does not. Damn. I'd drop for that chance! David takes the bait, but will he choose wisely? No! David got the wrong one so the next guy to drop won't be a Have-Not all summer. Jeremy takes the offer. Very smart move. Well, unless he gets nominated this week.
That leaves Nick and McCrae in the comp. McCrae offers Nick safety this week and it's accepted. McCrae wins and is the first HoH of Big Brother 15!
Julie gathers the HGs and reveals the mysterious third nomination will come from a viewer-voted "MVP." Julie confirms the MVP will be informed in secret and will make his or her nominations in secret. Just as we told you would be the case. The MVP's secret nomination will be revealed just before the Power of Veto competition each week.
There weren't any nominations during the show, but once the Big Brother Live Feeds turn on after tonight's premiere we should be able to work on determining who is in the hot seat or nominated! The MVP will be later this week as MVP voting continues tonight.
If you want to watch along then sign-up right now for the Big Brother Live Feeds
. You can login right now and start chatting with other fans as we await the in-house cameras to turn on just after 9PM PT (12AM ET). We can't wait to start watching inside the house!
BBAD viewers can watch along on TVGN from 12AM to 2AM ET/PT. Check www.tvgn.tv for the "Channel Finder" to check for availability in your area.