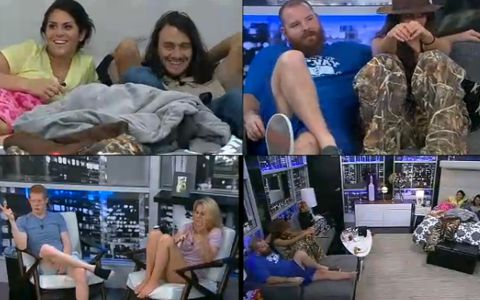 Saturday brought a lot of anxiety for the HGs as they were left waiting until the end of the day for their chance to compete and secure their target's fate with the Power of Veto. Now that we know where the game is heading this week it's up to the HGs to keep their plan on track as another twist gets ready for Thursday.
Read about those moments and others on our Live Feed highlights below. And remember to sign-up now for the Big Brother Feeds so you can watch any of these moments by using the Flashback archive feature.
Big Brother 15 Live Feed Highlights –  Saturday, Aug. 17, 2013
9:00 AM BBT – HGs slowly starting out their day.

9:15 AM BBT – Aaryn finds Clowny hanging in the shower like he committed suicide.

10:30 AM BBT – Helen complaining about the HN food this week. It's her second straight week as a HN.

11:00 AM BBT – Feeds return. The Veto players are picked. Andy, GM, and Spencer will join the game.

11:15 AM BBT – Andy is frustrated that he'll have to play in the comp and risk winning which will risk exposing his betrayal of Helen.

11:45 AM BBT – Elissa tells Amanda she knows Aaryn told Helen that she (Helen) was safe. Amanda suggests Helen should use the Veto on Elissa then if she wins it. Amanda keeps working Elissa. She's preparing for Elissa staying and needing an ally next week.

1:00 PM BBT – Spencer and Aaryn discuss the plan to get Helen out this week and why she needs to go. Spencer says they have to keep Helen in the dark.

1:45 PM BBT – Aaryn finds Clowny's second suicide. This time he's overdosed on some of her pills.

3:10 PM BBT – Helen and Elissa comparing notes on what Aaryn told them. Both say they were promised they were just pawns this week. The walls are closing in.

4:00 PM BBT – Helen and McCrae holding a little Elissa-bashing session. Helen playing to McC's love of the game by saying Elissa isn't a real fan like she is. Helen also working McC on turning on Amanda. She says she'd vote for Amanda over him in F2 if she got there without winning anything.

4:55 PM BBT – BB makes a strange announcement that the HGs should enjoy themselves and that these are the good old days.

5:30 PM BBT – Helen doesn't want anyone to ruin the surprise and reveal things when she gets out. She wants to go over to Andy's house and watch the season together (they both live in Chicago).

8:48 PM BBT – Feeds return. Elissa has won the Veto.

8:55 PM BBT – Andy showing off his bruise. He jokes that Elissa "Enzo'd" him and knocked his head during the comp.

9:15 PM BBT – Aaryn warns Spencer he'll be the renom, but that he's completely safe. Spencer starts saying nasty things that he'll use to rattle Elissa by intimidating her with threats to her children.

9:25 PM BBT – Helen working GM for her vote. Helen says she's got McCranda's support.

9:30 PM BBT – Aaryn wants Spencer gone next week. She thinks she's more dangerous than Elissa.

10:15 PM BBT – Amanda is worried about returning Jury members and how it could hurt her game.

10:30 PM BBT – Helen & Elissa agree that they need to target Amanda & Aaryn next.

11:05 PM BBT – McCrae, Andy, and Spencer talking "boot list," the order they want the others to go in. Elissa and GM are shared targets.

12:35 AM BBT – McCrae and Aaryn talking about viewer opinion. Aaryn isn't concerned at all what America thinks. She later again uses the argument that she's mistreated because she has blonde hair and blue eyes.

2:45 AM BBT – Spencer is upset because he was kicked out of DR so Elissa could come in for a medical emergency.

3:00 AM BBT – HGs dissecting Elissa's personal life. They don't like how she's married to an older man or how she wants to raise her child.

3:20 AM BBT – McCranda and Andy discuss messing with the votes to make it 3-2 instead of 4-1.

4:50 AM BBT – McCrae tells Amanda that he's afraid to let Aaryn get to F4. He thinks she's better at comps than Andy and will be harder to get out later.

5:05 AM BBT – McCrae tells Spencer that they'll take him to F4 if he doesn't put them (him & Amanda) up on the block.
Elissa is officially safe, but she really was this whole time anyway. Now Helen will have to figure out she's the real target and then secure three votes to stay. I'm not so sure she can pull that off.
You can watch all of these Big Brother 15 events using the archives flashback, the DVR-like feature of this year's Live Feeds which means it's always live, even when you missed it! Sign-up now to get the free trial to watch it all live & uncensored.
click images to see full-size