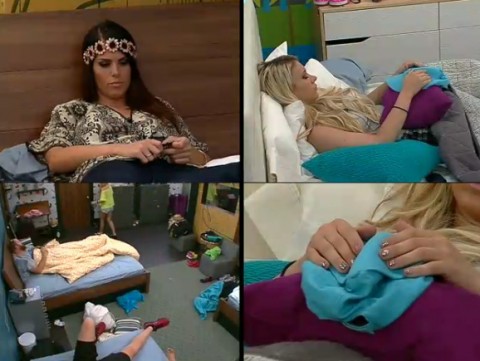 It's eviction day in the Big Brother 15 house! And never has there been a less suspenseful moment in this game. OK, sure there has been, but surely not this season. Everyone is so certain there hasn't even been any last-minute campaigning. At least not that we could see (the HGs slept late and the feeds were cut several times today). So needless to say, the houseguests have spent the day lounging and getting ready for tonight's live show. And they're not putting on athletic gear, so they know it's not a physical challenge tonight.
Read about all the moments from the house on our Live Feeds highlights below. And remember that you can check out any of these moments by using the Live Feeds flashback/archive feature.
Big Brother 15 Live Feed Highlights – Thursday, July 18, 2013
9:45 AM BBT – Helen is up. She discovers they're on lockdown, which means they're preparing for tonight's Head of Household competition.

10:00 AM BBT – Feeds cut. Wake-up call.

10:15 AM BBT – Houseguests are slowly getting up and moving about.

10:43 AM BBT – Howard saying is daily prayer in the Have-Not room.

10:55 AM BBT – Some of the houseguests are joking around that GinaMarie and Judd will fall in love this week.

11:40 AM BBT – Feeds cut for show rehearsal/set-up.

12:56 PM BBT – Feeds return and houeguests are let out of the Head of Household room lockdown.

12:57 PM BBT – Helen tells Katilin that Jeremy is going home.

12:58 PM BBT – Most of the girls are in the bathroom getting ready for tonight's show.

1:20 PM BBT – Jeremy is searching for all the items he needs to take out of the house with him tonight when he is evicted.

1:34 PM BBT – Howard and Jeremy have a farewell discussion. Howard gives Jeremy some encouragement for life outside the house.

2:10 PM BBT – Most of the girls are ready for tonight's show and now they're waiting around. Jeremy is the only guy who has gotten ready yet.

2:20 PM BBT – Judd getting a haircut ahead of tonight's show.

2:33 PM BBT – Candice giving Spencer a haircut.

2:35 PM BBT – Andy telling the others that GinaMarie said if she wins Head of Household she wants her letter to be from Nick. They talk about how ridiculous that is.

2:48 PM BBT – Now it's Howard's turn for a haircut.
So there you have it. Things should definitely get more exciting tonight after Jeremy's eviction and a new Head of Household is crowned. Especially if Katilin's feelings come true and she wins the key.
You can watch all of these Big Brother 15 events using the archives flashback, the DVR-like feature of this year's Live Feeds which means it's always live, even when you missed it! Sign-up now to get the free trial to watch it all live & uncensored.