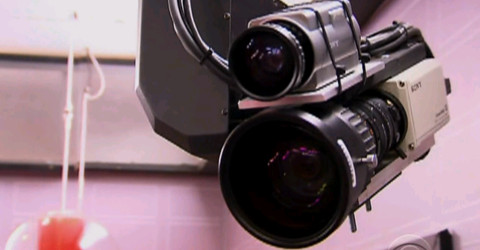 It was Veto competition day in the Big Brother house which brought with it the MVP nominee reveal. Once the PoV comp ended the real game play started up as HGs maneuvered for support and control of the upcoming votes.
Remember that you can check out any of these moments by using the Live Feeds flashback/archive feature.
Big Brother 15 Live Feed Highlights – Saturday, July 6th, 2013:
7:50AM BBT – BB is waking the HGs up early. Big day ahead for them.

10:20AM BBT – Feeds return from picking players. Jeremy confirmed as MVP nom. Elissa working hard on Nick. She tells him he's screwed either way so he might as well join her. She wants him to throw the Veto or be a potential renom, admitting she is the MVP. He asks for more time to think it over, but they still shake on it.

11:10AM BBT – Howard talking with McCrae and Spencer about voting out Elissa this week and keeping Jeremy.

1:07PM BBT – Feeds return from the Veto competition. Jeremy has the medallion around his neck as the HOH crew celebrates around him.

3:00PM BBT – Jeremy tells McC, Judd, & Spencer that the vote better be a landslide against Elissa or he'll be angry and come after HGs.

3:35PM BBT – Amanda wants to keep Elissa so they can keep tabs on the MVP power. She worries what could happen to the group if that power's holder is unknown.

4:30PM BBT – Aaryn and GinaMarie confiding that they are tired of being around Kaitlin & Jeremy as a couple.

5:30PM BBT – Helen working on Andy to keep Elissa. Andy wants to cut her loose thinking the HoH-crew would go after Candice or Nick next. Helen wants to keep their numbers strong.

5:50PM BBT – Elissa talking with Andy and Helen about renom'ing Nick as the MVP nom. She's considering it, but concerned because she made a deal with him earlier.

6:45PM BBT – Kaitlin talking game with Aaryn. After awhile they start to suspect Jeremy knew David was going to be evicted.

7:20PM BBT – Jeremy works his way around the Moving Company alliance demanding details on side alliances and threatening to leave the alliance if things don't go his way. This coming from the guy who probably has the largest side alliance of all the MC members.

8:00PM BBT – Jeremy and Aaryn think they can win MVP once Elissa is gone. Yeah, probably not.

8:15PM BBT – Elissa trying to round up support from Judd, McCrae, & Amanda for voting out Kaitlin. Looks like she's off the Nick-nom plan afterall.

8:30PM BBT – Kaitlin confronts Andy and says they know he's in an alliance with Elissa.

10:45PM BBT – Spencer working on Helen to yield and go along with voting out Elissa. After a long talk Helen said she'd give in on it.

12:00AM BBT – Amanda and Andy really want to keep Elissa. Both are worried that viewers will turn on them if they vote out Elissa since they keep giving her the MVP.

2:55AM BBT – Helen working on Candice to keep Elissa. Looks like she just told Spencer what he wanted to hear earlier.
Elissa could be in real trouble this week. Neither Nick or Kaitlin are slam dunks for eviction which puts her in the danger zone for sure. Helen is unlikely to get even one vote against her at this rate.
You can watch all of these Big Brother 15 events using the archives flashback, the DVR-like feature of this year's Live Feeds which means it's always live, even when you missed it! Sign-up now to get the free trial to watch it all live & uncensored!
click images to see full-size