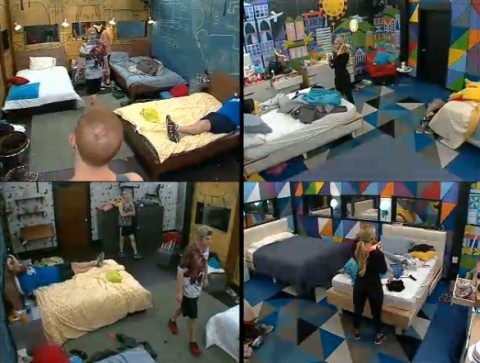 We didn't get to spend a lot of time on the Big Brother 15 Live Feeds today due to the houseguests sleeping, rehearsals, the live show and the second Head of Household competition of the night, but in between all that there were some notable things to report.
Read about those moments and others on our Live Feed highlights below. And remember to sign-up now for the Big Brother Feeds so you can watch any of these moments by using the Flashback archive feature.
Big Brother 15 Live Feed Highlights –  Thursday, Sept. 5, 2013
9:10 AM BBT – Feeds cut. Wake-up time.

10:08 AM BBT – Only Elissa and Judd appear to be up. HOH lockdown is called for live show set-up.

10:10 AM BBT – Feeds cut to trivia for live show prep.

12:38 PM BBT – Feeds return.

1:20 PM BBT – Elissa running laps through the house. Some other Houseguests are getting ready for the day.

2:40 PM BBT – Judd and Elissa are talking game. Both say they won't put each other up tonight. Elissa says she would put up Andy and GinaMarie.

2:54 PM BBT – Spencer and Andy are practicing for possible competitions tonight.

3:00 PM BBT – McCrae hints at a guys alliance and Andy and Judd nod.

3:10 PM BBT – Feeds cut for live show rehearsal and live show airing.

7:03 PM BBT – Feeds return after Double Eviction episode. Of course Amanda and Elissa are gone.

7:08 PM BBT – Spencer says if Elissa wins America's favorite, he'll sh*t on the stage. Get ready to do that, Spencer. The others are talking about how happy they are she's gone. They wonder if America is upset she left.

7:15 PM BBT – McCrae and GinaMarie handshake on "burying the hatchet."

7:18 PM BBT – The HGs are packing Elissa's stuff. Spencer is cracking a bunch of crude jokes about it and probably shouldn't be allowed to handle her things.

7:30 PM BBT – Elissa bashing still going on.

8:15 PM BBT – GinaMarie is cramming Elissa's stuff in her suitcase.

8:22 PM BBT – McCrae goes to Diary Room so the "Exterminators" do their alliance dance and are celebrating.

8:43 PM BBT – Andy talking about all the women in the jury house who hate him.

8:51 PM BBT – Feeds cut for second HOH competition.

10:00 PM BBT – Feeds are still out even though Big Brother After Dark has started.

10:44 PM BBT – Feeds finally return. Spencer has won HOH. Spencer promises Andy he won't go up even as a replacement. The plan is to put up McCrae against Judd or GinaMarie.

11:30 PM BBT – Andy still trying to cover his evict-Amanda vote by talking about the opposite within earshot of McCrae.

11:35 PM BBT – HGs get an arts and crafts set to keep them busy.

11:55 PM BBT – HGs discuss the Jury and think it'll be a bitter, vengeful group of voters.

12:40 AM BBT – Spencer talks to GM and tells her she'll go up as a pawn against McCrae. If she comes down then Judd will be the pawn renom.

12:45 AM BBT – Punishments from the comp are being doled out. GM & McCrae are chained together. Judd has to do exercises when a whistle blows.

1:40 AM BBT – HGs receive 4 cans of beer to celebrate. (GM doesn't drink).

5:00 AM BBT – HGs are STILL up running on adrenaline. McCrae & GM head downstairs leaving Judd alone with Spencer. Judd and Spencer discuss their Final 2 deal.

5:15 AM BBT – HGs finally turning off the lights and getting to sleep. Judd keeps getting woken up to do exercises, but other HGs are laughing at the drill sergeant catchphrase insults that go along with it.
So it only took 77 days, but Spencer won Head of Household and at this point, it's a very crucial win. It will be interesting to see if Spencer sticks to the McCrae plan or if McCrae can convince Spencer on an all-guy alliance and ditch GinaMarie.
You can watch all of these Big Brother 15 events using the archives flashback, the DVR-like feature of this year's Live Feeds which means it's always live, even when you missed it! Sign-up now to get the free trial to watch it all live & uncensored.
click images to see full-size