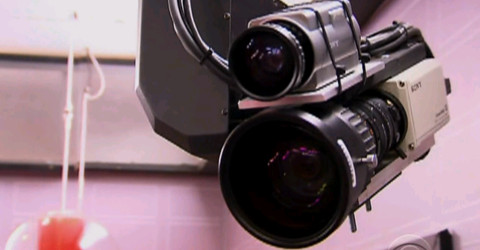 Picking up where we left off from the day's earlier Feed events, the Big Brother 15 Live Feeds highlights from last night had one major theme: Elissa. Most of the house wants her out of the house, but she hasn't even been put up on the block yet. So McCrae, who holds all the power this week, has a lot of people expecting him to do what the house wants even though he might prefer someone else to go home this week.
Elissa also might have an ally in a few others. That's all covered in the Live Feeds highlights below. Also, remember that you can check out any of these moments by using the Live Feeds flashback/archive feature.
Big Brother 15 Live Feed Highlights – Thursday, June 27/Friday, June 28 
8:59 PM BBT – Feeds return. Houseguests celebrating because McCrae won Veto. They think he will use the Veto and put Elissa up as a replacement nominee.

9:05 PM BBT – Various houseguests talking about the competition. It involved spelling and honey.

9:30 PM BBT – Aaryn tells David she's sorry for being nasty with him earlier. She feels better now that she thinks they're both safe and Elissa will go up and get evicted.

9:38 PM BBT – Nick pitches a new plan to McCrae. He want him to not use the Veto, keep Elissa safe and they can all vote to evict David. McCrae agrees that he'd like to see David go. But he still thinks he should put up Elissa to keep the house happy.

9:48 PM BBT – Helen and Elissa are talking. Helen says she will try to get McCrae to not put her on the block. Helen also tells Elissa to just lay low so people can't use her own words against her.

10:10 PM BBT – Aaryn and Jessie prepare for a double bubble bath in the HOH suite.

10:22 PM BBT – GinaMarie asks if Australians speak English.

10:55 PM BBT – Jeremy, Helen and some others are of course talking about Elissa. Helen said she found out some stuff about Elissa that concerns her. Jeremy warns Helen to stay away from her. Says hanging out with her is "deadly."

11:30 PM BBT – McCrae says he fears if he gets Elissa out of the house America will hate him and he'll never win MVP.

11:45AM BBT – Kaitlin talking with Andy in the lounge. They expect Elissa to remain the target and Andy is going to vote with the house against her. Kaitlin brings up Jessie and how she fears Jessie's jealously for stealing the guy (Jeremy) she wanted.

12:20 AM BBT – McCrae and Judd discuss their opportunity to get rid of David instead of Elissa and how it'd be a waste to not.

2:30 AM BBT – Aaryn and David discussing their suspicions that Elissa is the MVP. Aaryn is confident Elissa is going home because McCrae told her so earlier.

3:30 AM BBT – (CAM1) Jeremy & Kaitlin are doing something under the covers together. I'll guess they're playing Parcheesi. What do you think? Afterwards Kaitlin rolls over, sees the camera, and covers her face realizing what she just did on camera. Playing Parcheesi, of course.
So we have lots of plotting and planning going on along with several showmances growing and apparently even consummating right on the Live Feeds.
McCrae will use the Veto in the upcoming ceremony and Elissa will go on the block, but the sneaky plan is to blindside David. Expect either Jessie or Candice, probably Jessie because of her nerves, to come down off the block. If the HGs evict David we should see some drama. Oh boy!
You can watch all of these Big Brother 15 events using the archives flashback, the DVR-like feature of this year's Live Feeds which means it's always live, even when you missed it! Sign-up now to get the free trial to watch it all live & uncensored!
click images to see full-size