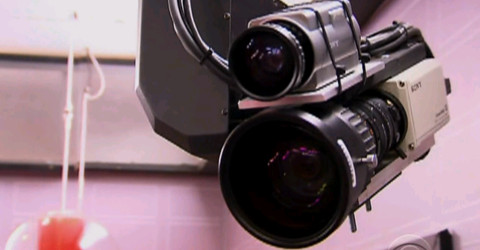 Things have finally slowed down in the Big Brother 15 house and the Live Feeds have reflected that today. A lot of that has to do with the fact that the houseguests were allowed outside today and the cabin fever got a bit of a reprieve. A lot of the talk around the house is still on whether or not McCrae will use the veto and if Elissa will be going up on the block. Right now it sounds like she will be going up and then either she or David will be going home. But a lot can happen before next Wednesday.
That's all covered in the Live Feeds highlights below. Also, remember that you can check out any of these moments by using the Live Feeds flashback/archive feature.
Big Brother 15 Live Feed Highlights – Friday, June 28, 2013:
10:00 AM BBT – The houseguests are starting to wake up and move about the house.

10:01 AM BBT – Andy and Judd talking about eviction options other than Elissa. Andy fears Jeremy will come after them if they save Elissa (who hasn't even been nominate yet, keep in mind).

10:15 AM BBT – Now Andy and Helen are talking about eviction possibilities. Andy is finally realizing if they keep Elissa around, she'll continue to be the target and they can sit pretty for a bit.

11:17 AM BBT – Aaryn and Elissa apologize to each other and hug. They seem to get through to each other but the girls in the house don't seem to stay friends long.

11:55 AM BBT – Andy and Aaryn already talking about Elissa again. They think once she's gone everyone will be able to realx. (It's week ONE, people!)

12:27 PM BBT – McCrae and David are talking. McCrae is hinting to David that he won't be taking him off the block. David throws in some veiled threats.

12:35 PM BBT -McCrae says he is definitely using the veto and Elissa will be sent out. He also tells David he is safe.

2:10 PM BBT – The BB photobooth is open. Houseguests start taking turns taking photos.

2:25 PM BBT – David still thinks he's in trouble.

2:30 PM BBT – McCrae lets Elissa know he has to put her up because if he doesn't, the house will come after him next week.

4:00 PM BBT – Spencer and Nick talk about getting David out. They talk about how to get the votes and who to blame his eviction on.
You can watch all of these Big Brother 15 events using the archives flashback, the DVR-like feature of this year's Live Feeds which means it's always live, even when you missed it! Sign-up now to get the free trial to watch it all live & uncensored.