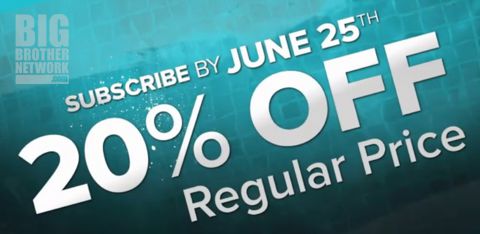 The Big Brother 15 Early Bird sale is on for the all-new Live Feeds! CBS has lifted its ban on the details so we're ready to share the information and links so you can get this limited time preseason price and watch the entire season for $23.99 a 20% cut off the monthly price. This is a huge price drop from what we've seen in the past!
This year the Feeds will be provided directly by CBS and will no longer require a subscription to Real's SuperPass. We're still discovering what all this change will mean for our beloved Feeds, but so far it looks like all good news.
The Live Feeds have three pricing options: 1) $23.99 for the entire season with the Early Bird. 2) $26.99 for entire season starting June 26th. 3) $9.99 a month.

Once Big Brother 15 starts the sale ends so you'll need to sign-up by the end of June 25, 2013 to secure the Early Bird sale price and save 20% off the cost. Signing up now will guarantee you access to the "24/7 Live" Big Brother Live Feeds for the full season. If you wait, you can get them later but you'll pay more for the same thing.
Did you know that when you sign-up for your Feeds through fansites like this one that you directly help support them? We couldn't do this site each season without you. Your sign-ups through our links and banners make this community possible. Thank you.
Click here for Big Brother Live Feeds Early Bird Discount
There will be two types of subscriptions: monthly and season pass. These options will be familiar to past subscribers, but for those new or unfamiliar the monthly rate will be a little higher than the season pass but give you the month-to-month option while the season pass is a better overall price and covers you for the full summer series.
We know there will be mobile access again this season for the Feeds and CBS has confirmed a Flashback feature, of sorts, covering all events from the current season. We'll also get four cameras to pick from plus a quad-view so you can watch it all.
Hmm. Looks like CBS is blocking Canadian viewers after all. We'll work on more info.
Big Brother 15 Live Feeds Early Bird sale ends June 25, 2013. Don't wait. Sign-up now!
Jeff Schroeder explains the Big Brother Live Feeds – Video: