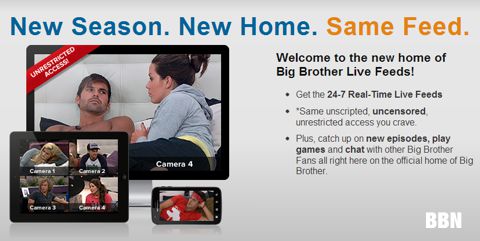 Update: CBS has released details for the new Live Feeds! Read the full report here.
This week CBS announced a significant change to the way Big Brother 15 fans will keep an eye on the most closely watched house each summer.
When the 2013 season premieres on June 26th, two weeks early this year, viewers will no longer be using RealNetwork's SuperPass service for an uncensored view inside the Big Brother house. CBS has ended its thirteen season relationship with RealNetworks in favor of self-hosting the Live Feed access via the CBS.com website.


Receive notifications on the Big Brother Live Feeds:
While few details were released to us it appears there should be little change in the actual viewing experience for fans as CBS is promising "New Season. New Home. Same Feeds." Viewers concerned about expanded blackouts and cutaways should keep in mind that CBS has always controlled the content flowing out of the Big Brother house and on to the Feeds. There's sure to still be Feed blocks and frustration on the viewers' end, but it should be no worse than before. Tweets of discontent can now be aimed directly at the source.
Side Note: I'm reading lots of misplaced fears that blackouts will intensify with this change. We have no reason to believe that. As I tried to explain above, there should be no change. CBS has always had control of what goes out on the Feeds. RealNetworks provided the streaming service, they never had editorial control over content in that way. If you're panicking about more blocked Feeds then please take a deep breath and stop worrying.
It is also likely that the Feeds will continue to be a paid subscription service as both CBS and Real assured affiliates the referral program, a critical funding source for sites like this, would continue in some form. "We have been working with CBS.com and they understand the critical role you play in generating the interest and subscribers for this product," said RealNetworks in a release to affiliates of the Live Feed program.
This change could also offer an opportunity for an improvement in technology and delivery of the Feeds though after dealing with Big Brother Canada and the lack of "Flashback" we are anxious to have a full feature set confirmed by CBS.
As CBS shifts away from Real we hope this won't mean the end of SuperPass' featured content with hosts like former BB HG Chelsia Hart and Missy. No details have been released on the fate of Real's supplemental content.
We'd like to thank RealNetworks and the entire BBLF team there for everything they've done for viewers and fan sites for more than a decade in support of the best reality series out there, Big Brother!
Be sure to join us on Facebook, Twitter, & by Email to receive additional news and updates on the Big Brother 15 Feeds. We will keep you posted.