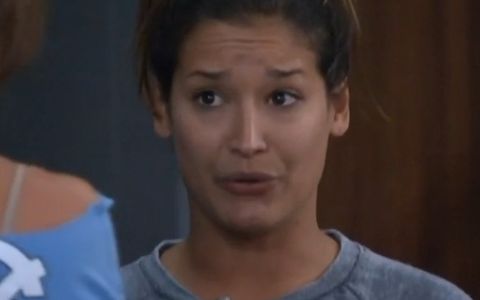 Jessie has consistently been that "wait, which HG is that?" character on Big Brother 15. After starting out in the premiere as a seemingly attention-grabber, Jessie has slid in to obscurity. Perhaps sensing this could be her final chance for drama and camera time, Jessie has brought out the fighter inside her.
Jessie has promised to go out with a bang this week and from what we saw last night we don't doubt her. Sign-up now for the Live Feeds and watch all of last nights events with Flashback plus everything else that's about to go down with a free 2-day trial.
The party got started at 10:53PM BBT 8/12 when Jessie called Helen down to play pool but Jessie wasn't really interested in billiards. Instead Jessie asks Helen why she revealed to Aaryn that Jessie had tried to get Amanda voted out last week. Helen assures her it was public knowledge and she hadn't revealed anything that everyone didn't already know. Helen even blames that reveal on Judd. The discussion becomes heated and Helen storms away.
Quick back story: Last week Jessie, Helen, & Elissa discussed evicting Amanda. Helen tried to rally support, but after talking with Andy she decided it wouldn't work and called off the effort. Now Helen is trying to place full blame on Jessie for those events.
A few mins later Helen heads to the back bedroom and is retelling the argument to Andy, McCrae, and Amanda. Shortly after that Jessie is getting in her side of the "evict Amanda plan" story to McCrae. Oh, but guess what. McCrae has the audacity to have this discussion with Jessie alone! Oh the horror. Guess who doesn't like that very much and complains about it for the rest of the night after she drags him out of the room where he was doing nothing but talking privately with Jessie.
Jump to 11:23PM BBT to find Helen and Jessie butting heads again in the bathroom. It's brief, but it happens in front of Amanda & Elissa and ends with Helen saying "you're leaving Thursday" as she marches away. Commence more retellings as Jessie goes outside to McCrae & Spencer while Helen heads upstairs to Andy, Aaryn, & GM.
click thumbnails to see full-size view
There's more fun to be had at 11:34PM BBT with Jessie coming up to the HoH room to interrupt Helen's retellings. Jessie takes Helen to task in front of Andy and details how Helen was "ecstatic and over the moon" for the idea of evicting Amanda but is now denying it as only Jessie's plan. Jessie tries to get Andy's support, but he backs Helen as saying it wasn't a serious discussion to get out Amanda. Andy could be hedging his bets here as he knows Jessie is going regardless of his concerns about Helen's actual intentions.
After several failed attempts to leave Helen eventually does leave the HoH room. Jessie stays and continues to work on Andy, but at this point Jessie is still done and gone. She's just using her time here to cause as many rifts as possible. Might as well!
The fights and arguments kept on for several more hours, so I'll get another post up soon with more details and pics from the second part of the night. Update here.
What do you think of Jessie and Helen fighting? Can Jessie save herself? Maybe if this had come up before the Veto Ceremony we'd see some real action come of it, but as of now I'd be surprised to see Jessie stay past Thursday.
Sign-up now for the Live Feeds and watch the Big Brother 15 action for $9.99!