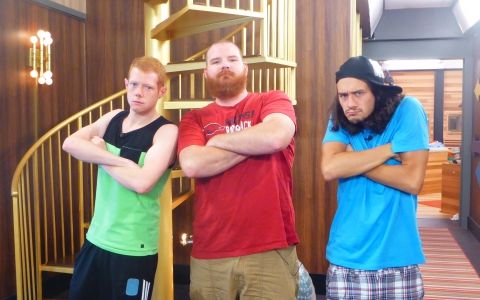 The Big Brother 15 HouseGuests are preparing for this week's veto competition and now that the players have been picked for the battle we can speculate on outcomes.
Aaryn will play as HoH along with her two nominees Elissa and Helen. Drawn to play beside them will be Andy, Spencer, and GinaMarie.
Andy is upset that he'll be playing in case he wins since Helen thinks he'll use it to save her and he doesn't want to do that obviously since she's the target. Considering that perspective, don't expect Andy to try and win this at all.
I doubt Aaryn cares if it's Helen or Elissa that goes this week, but she will probably want the Veto because she likes to win. Then she won't have to worry about a renom.
GinaMarie doesn't have a ton of motivation in this situation, so I wouldn't look for her to be going in to overdrive this afternoon.
Spencer, Helen, and Elissa will all be gunning for this win. Spencer isn't up on the block, but if either of the two nominees gets it then he will be. He said he's ready to take punishments to win. Helen and Elissa want the Veto to dodge eviction on Thursday.
Worst case scenario for the 3AM alliance would be for Spencer to win it and save one of the nominees, forcing Aaryn to renom GinaMarie. In that scenario Spencer & who ever he saves could votes against GM, but Andy, Amanda, and McCrae would still vote for the original nominee and she'd go home.
With that in mind, I don't really see today's Veto doing anything other than determining which of the two current nominees, Helen & Elissa, goes home. If Helen doesn't win it, then she's leaving in a few days. If she does, then bye, Elissa.
The Power of Veto competition is coming up later today. We'll be watching for the spoilers and will keep you posted so join us on Facebook and Twitter for updates.