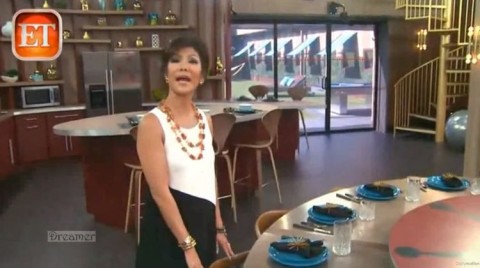 CBS has revealed the Big Brother 15 house in an interview with ET! Here are your pictures plus guided tour by none other than Julie Chen herself. The best part of Julie's tour? She's dropping hints and reveals all over the place.
Before we get to the hints, the BB15 house theme is a mid-century modern "Mad Men" inspired creation. It actually looks pretty awesome.
First up? The nomination chairs are missing! Julie explains this is part of the twist.
Get your LIve Feeds' Early Bird discount before it expires!
Then there's the memory wall featuring, wait for it, 16 spots since the Big Brother 15 season starts early and runs longer this year.
Now back to that twist. Later in the tour Julie explains America's role on BB15 will be much bigger this year because it will affect the nominations "every week." Yikes! Well that's no good.
"America's role is so big this summer, that even before we start the game, America will be asked to do something and it will affect the nominations," says Julie Chen on the Big Brother 15 twist.
And one last thing to leave us with, Julie says that this summer we'll see "16 new houseguests." We told you so six weeks ago, didn't we? Yep. She does add there will be one familiar face, but since he/she will be a new HG that means it's probably a crossover from another CBS show.'
What do you think of the new Big Brother 15 house and the latest twists and spoilers?
Sign-up now & save on your Big Brother Live Feeds!
click images to see full-size
Big Brother 15 House tour video:
Update: Additional tour of the BB15 house with Julie Chen from THR.