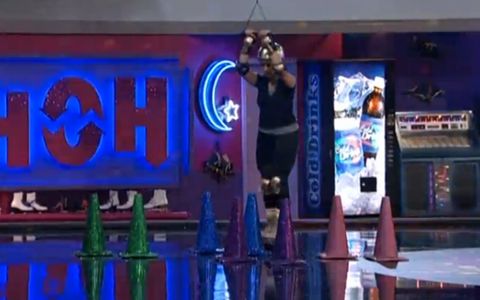 Here we go! It's time for the final Big Brother 15 Endurance HoH Competition! Earlier we saw McCrae evicted so it's time for the Final Three HGs to battle it out in a three-part final HoH competition with the first round tonight. This first round is the infamous endurance battle and we're excited to watch it play out on the Feeds.
So here's the deal: if you want to watch this competition live as it happens then you have to have your Big Brother Live Feeds
up and running. If you don't have the feeds then this is exactly when you need to sign-up with the free trial and see how they work. You'll be able to watch everything live and uncut as it happens right along with us!
Click Here to Get the Big Brother Live Feed Free Trial
The competition is a roller disco theme. HGs have to hold on above their heads to a handle and they roll around in a circle.
Big Brother 15 Final HoH Round 1 Endurance Comp Results:
9:07PM BBT – Feeds finally return. 3 hours late.
9:10PM BBT – All 3 HGs still in the comp.
9:12PM BBT – Spencer falls and is out.
9:15PM BBT – GM & Andy just keep on going.
9:20PM BBT – Water sprays all over the track. VERY slippery
9:24PM BBT – Andy is ALL over the place. He falls. GM wins!
Watch what's happening with the Live Feeds free trial!
click images to see full-size
GinaMarie has won Round 1 of the final HoH comp. She moves on to face the winner of round 2 during the live round 3 during next Wednesday's finale event.
What do you think of all of tonight's Big Brother craziness?