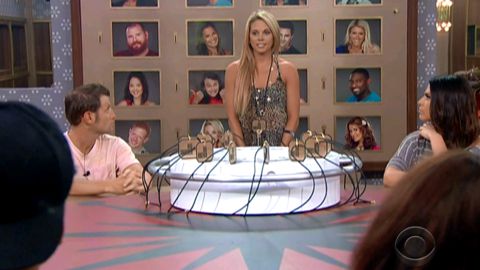 In a smart move to protect their own integrity, CBS decided to reveal the questionable behavior that's been going on among some of the Big Brother 15 houseguests. Let's just hope this is the last we have to see it, hear about, write about it and talk about it.
This Sunday's episode picked up during this week's Head of Household competition. As we already knew, they were working in pairs and the winning team must pick which of them is the new Head of Household.
The pairs were Jessie and Howard, Andy and Elissa, Jeremy and Aaryn, Nick and Judd, Candice and GinaMarie, Helen and Spencer, and Katilin and Amanda.
And then we briefly cut back to the David blindside. Aaryn is crying. Elisa is thanking America for the MVP. And GinaMarie and Jessie are confused. Everyone else knew what was going down.
Back to the HOH contest. It's down between Aaryn and Jeremy and Elissa and Andy. In the end, Jeremy and Aaryn win. Jeremy gives the actual title to Aaryn. The Moving Company isn't thrilled. Arryn has to immediately name have-not. So she acts "raise your hands if you voted out David." She picks Elissa, Helen, Candice and Andy.
During the aftermath of David's eviction, we get Aaryn counting votes and deciding to dedicate her HOH to what was done wrong to David. We learn that Spencer got Candice to vote for Elissa to be evicted so he could use that vote as his own when telling Aaryn and others how he voted. He really voted for David, of course.
Andy does the best job of anyone with covering his tracks for voting out David. He cries to Aaryn and earns her respect and just like that gets off her nomination radar. "I'm keeping my friends close and my Aaryns closer," he said.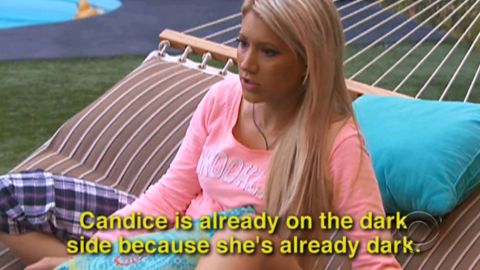 And then we get CBS' surprising move: a racism montage. CBS and/or the producers decided to air all of the things that Aaryn and some of what GinaMarie has said about Andy, Candice and Helen. I don't need to repeat them again here, but if you want to check it out, you can see a replay of the segment here.
We get a glimpse of Candice and Helen slowly figuring out there's a guy alliance in the house. But like every other season they don't really do anything with the possible information they've uncovered. "I wonder if it's like a boy super group," Candice asks. YES! Now run with it, Candice!
Speaking of gameplay, Helen realizes she could be a target for Aaryn, so she decides to have a talk with Aaryn. She lays out ways that they can help each other. And it's a sweet idea for Aaryn, but as she said earlier, she's playing this week for revenge on David. So she doesn't take Helen's offer very far.
Helen might just have hope yet because Spencer is working to get Amanda up and out because of her controlling McCrae, who is a part of his Moving Company alliance. So Jeremy takes that information to Aaryn and tells her that Amanda is the mastermind behind David's eviction.
But to no one's surprise, Aaryn plays it personally and nominates Elissa and Helen for eviction.
What do you think of Aaryn's nominations and CBS' decision to air the controversial things that have been going on in the house?