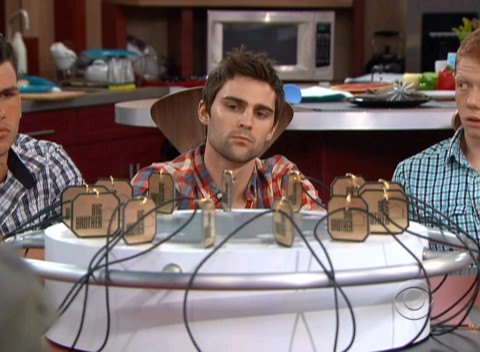 It's been quite a dramatic first week in the Big Brother 15 house. We've already got some showmances, Elissa's secret is out of the bag, and after Sunday night's episode, we officially know two of the three nominations for Week 1.
Sunday night's episode picked up right after the housguests learned about the BBMVP and third nomination twist.
And as expected, the HGs are having mixed reactions about the twist. Some think it's a great idea and that it will be more challenging. Others see it as a way to make sure floaters don't float.
We also see that it took almost no time  for Aaryn, Kaitilin and Jessie to each set their sights on the guys: David, Jeremy and Nick, respectively.
Elsewhere, Nick and Jeremy are assembling a guys alliance. They come up with the two of them, Spencer, Howard and McCrae. That's a second alliance for Jeremy, Spencer and Howard. So Nick takes the reigns and assembles The Moving Company. And then they have their first meeting. And they decide the best bet for the first week is to nominate two girls and let them blow up the house with their drama.
Time to break for our first showmance alert. It's Aaryn and David. They made a fast connection and Aaryn thinks David could help her in the game. And she suggests they become a "power couple." And since David came into the game looking for love more than money, he's totally feeling it.
Meanwhile, Jessie is trying to decide between Nick and Jeremy, because she apparently has the option?
OK, enough of that. Up in the HOH room, Judd tells McCrae that Elissa is Rachel Reilly's sister. And it doesn't take long for others to start picking up on it because Jessie doesn't keep it to herself like Judd.
And then it's Aaryn that is the one that takes it and runs with it. And she makes sure it goes from Elissa keeping an innocent secret to Elissa practicing conniving backstabbing.
It's time for the first Have-Not competition. And after a very active and convoluted contest, the Have-Nots for the week are Elissa, Judd, Howard, Helen and Andy. And we get to see the Have-Not room. And this season it's the inside of an airplane. And the Have-Nots have to sleep on airplane seats. Ouch.
When it comes time for McCrae to figure out who to nominate, Amanda does most of the decision-making. Well, she at least decides that Jessie should be nominated because she has a "better ass" than her.
And just in time, Elissa decides to tell McCrae that she is related to Rachel. She hoped to try to roadblock any plans he may have had to put her on the block because of it. And since McCrae is a super fan, he thinks he might like the idea of playing Big Brother with Rachel's sister.
But Aaryn and some of the others are pushing McCrae to nominate Elissa because they're pretty sure she's Rachel's sister.
In the end, McCrae decides to play his own game (and Amanda's) and he nominates Jessie and Candice. So that's two of the three nominations this week. If you want to find out who the MVP nominated and who won veto and who the final three nominations of the week are, check out our Big Brother Spoilers.
Also, don't forget to check out the Big Brother Live Feeds for all the up-to-date action going on in the Big Brother 15 house.