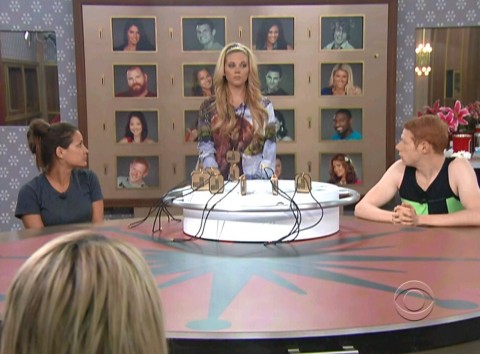 When Aaryn became the new Big Brother 15 Head of Household Thursday, half of America was sure she'd end up breaking her deal with the house and going after her personal targets Elissa and Candice. But Aaryn surprised everyone Sunday night when she went a long with her deal.
The episode opened up right after Kaitlin's eviction and Aaryn bragging about how she went from the bottom of the list to the top. And by top, we mean Head of Household. Yes, Queen of the Mean Girls is in charge again and the Houseguests are already starting to wonder what they've done.
Elissa is speechless. GinaMarie is happy because her "partner in crime" will help her stay safe this week. Candice wants to throw up and break down. And Helen is left hoping Aaryn hold up her end of the deal they made to keep her before the eviction.
Howard and Candice start figuring one or both of them will be a target. Candice thinks if Aaryn goes back to her catty ways, she'll nominate Candice and Elissa. Howard tells her to try to make nice and not let that happen. Jessie told Candice about the deal Aaryn made with Helen and Elissa, which is to nominate Howard and Spencer.
Elsewhere, Spencer is asking Aaryn if he's safe. She says she can't say that right now because she's a "slave to the house." She says she wants to keep him safe and also isn't interested in nominating Howard.
Helen tells Aaryn that Candice confronted her about the deal they made and they think Elissa leaked the information instead of Jessie, so talk to send Elissa home this week comes up. Helen is mad at Elissa but she isn't quite ready to turn on Elissa so she tells her to give her time to think on it.
Elissa's alliance decides that they can't tell her anything else and Helen says a few more times that they have to get her out.
Spencer decides to talk to Aaryn again about how to keep himself off the block. He tells her that he would not have nominated her. She says you would have had to. He tells her that it's time for a power shift and tells her that her alliance has been taken out one by one so she needs to make a move.
Howard is up next. He wants to keep his name out of Aaryn's mouth on nomination day. Aaryn tells Howard that she's only there because she made a deal with Helen that allows her to make the nominations. "I know you're bold enough and smart enough to know who is running this house," Howard tells her. "Shake the game up." She really wants to make a power move but she seems to still be too afraid to not do what the majority of the house wants her to do.
CBS self-promotion alert: Poppy Montgomery shows up on the screen to announce the Have-Not competition.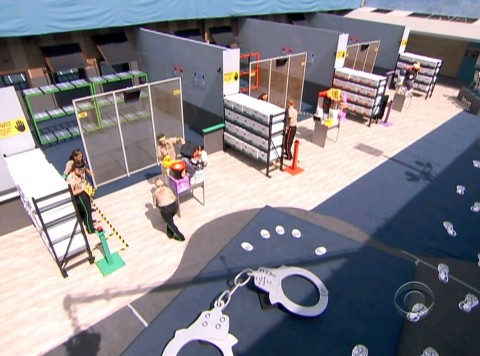 At the Have-Not competition, the teams are Purple: Spencer, Howard, Helen, Jessie; Orange: McCrae, Elissa, Andy, Aaryn; Green: Candice, GinaMarie, Judd, Amanda.
The orange team finishes first, purple team second and green team third. The green team members are the have-nots for the week.
It's back to the Aaryn meetings. This time it's Candice's turn. Aaryn tells her that she has to do what the house wants her to do. Candice also throws out the "make a big move" comment. Candice tells her she should break up McCrae and Amanda. Aaryn tells Candice that Amanda has been the one to keep her safe. Aaryn doesn't take any of it in and continues getting ready for the day.
We get a last-minute editing move to make us wonder if Aaryn will actually nominate Elissa. But she doesn't.
So what did Aaryn end up doing? She went along with her deal with Helen and nominated Howard and Spencer.
What do you think about Aaryn's move? Was it smart of her to stick with her deal or should she have satisfied her personal vendetta?