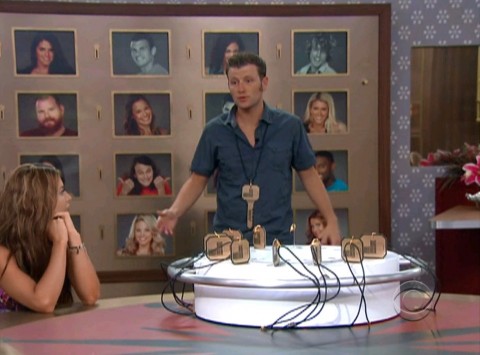 Despite a push to nominate Howard by Amanda, Judd made his own moves during Sunday night's episode of Big Brother 15.
The episode picked up right after Jeremy's not-so-surprising eviction from Thursday night. Kaitlin feels bad and is blaming herself for his eviction. For Aaryn, it's bittersweet. She's just happy it wasn't her. Helen is happy that she made it all happen.
But Helen's power is over and Judd's has begun. We cut to Judd's win and a lot of people are left wondering where they stand as far as he's concerned.
Meanwhile, Julie's hint about the MVP twist has caused all kinds of confusion and panic.
And of course there's Amanda wasting no time with irritating Judd with who he should nominate for eviction. He does tell the Diary Room what he should be telling her: if you want to put up Howard, win a Head of Household yourself.
We get a quick Judd HOH room reveal and then it's right back to game talk. Judd is tossing around GinaMarie's name for nomination because she's pointless. Elissa throws out Aaryn's name because they're enemies. Howard mentions Kaitlin because of her competition strength. And they all seem to agree that GinaMarie would be a waste of Judd's HOH. So it's sounding more like Kaitlin and Aaryn. But Judd can't stop thinking about Julie's hint. He's afraid that the nominees will end up with some kind of power.
Meanwhile, Howard and Spencer are making sure they get off Judd's radar (despite what Amanda is pushing for).
Showmance Alert #5. Yes, we're officially at No. 5 this season. This time is Candice and Howard. "I'm willing to explore this friendship as long as I'm here," Howard says. Even though showmances annoy me, this was probably the cutest of all the showmance montages this season.
Judd is back to tossing around ideas and he tells Aaryn that he doesn't plan on putting her up this week. He tells her that he's leaning more toward GinaMarie and Kaitlin. But Aaryn is worried she will be the MVP nominee and will be the one going home.
And those three girls at risk is causing friction among them and we get a brief, but beautiful, spat between Aaryn and GinaMarie. The "Blonde Bunnies" are in trouble, y'all!
It's time for the Have-Not competition and it's one of my favorite kinds of competitions. They have to eat something gross! Actually, they have to eat a lot of gross stuff and weigh in. The team that gains the least amount weight from eating frozen yogurt, including an anchovy and Habanero blend, loses.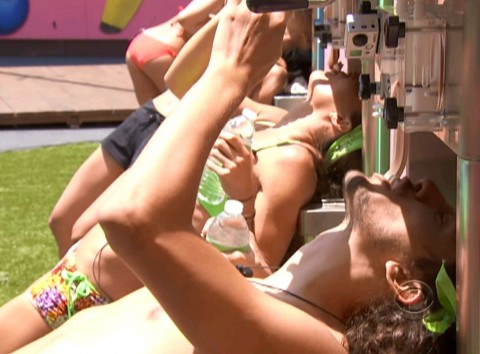 Orange Team: Andy, Spencer, Candice and Jessie gained 11 pounds.
Blue Team: GinaMarie, Kaitlin, Hellen and Aaryn gained 13.2 pounds.
Green Team: McCrae, Elissa, Howard, Amanda 12.9 pounds.
The orange team are the  have-nots for the week.
And now we head back inside so Judd can figure out who to nominate. We've still got Amanda pushing Judd hard to nominate Howard, which has been her goal for two weeks now. And we've still got Elissa pushing for Aaryn. But Judd goes with his gut and Elissa and ignores Amanda. Aaryn and Kaitlin are the nominees this week and will be sitting next to whoever America voted as the third nominee.
Who do you think will be the third nominee and who will be going home this week?