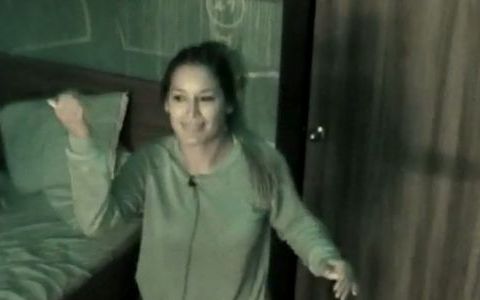 Normally I'd start one of these "counting the votes" posts out with a picture of a HG actually counting out votes on their hands, but I haven't seen anyone actually even bother with that this week. So instead we've got Jessie playing up to the camera after eavesdropping on other HGs discussing her pending demise. Seems appropriate.
On Thursday there will be six votes in the next Big Brother 15 eviction. Jessie will face off against Spencer and one of them will leave. It's going to be Jessie. No doubt about it.
Since taking power Andy has promised Spencer he'd be safe and that still appears to be the honest truth. Andy has said he does not want to make a big move this week and while it's boring for us it makes perfect sense for his game. He's straddling the divide in the house with McCranda on one side and Helissa on the other. As long as he doesn't have to pick a side until the other strikes first he'll be able to shift to the majority.
Everyone is on board to evict Jessie but I can't decide if Jessie has admitted this to herself. She hasn't given up campaigning when she's not busy causing fights and arguments in the house. Last night Amanda told Jessie to go to Andy for support, but Jessie says Andy told her to go to the voters. No one wants to tell Jessie the truth.
The truth remains that when the votes are tallied I expect Jessie to walk out the door 6-0 leaving Spencer behind for yet another week on the block.
Who do you think the HGs will evict next? Has Jessie's chaos possibly saved her? Have you seen anything that could put Spencer in danger? Vote in the poll below.