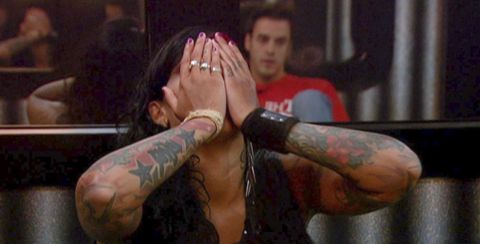 Later today the Big Brother 14 houseguests will be shocked to discover this week's eviction has arrived two days early. A Fast-Forward event is in store for the remaining HGs and will bring with it a flurry of events. Of course there's bad news in all that: a blackout of the Live Feeds.
CBS will be taping a new episode of Big Brother today where the next HG will be evicted. This episode will be broadcast on Wednesday but I won't be surprised if there are leaks since they'll have a live audience for the taping. I think it's safe to skip the leaks and just go ahead and predict it's going to be Jenn going to the Jury House.
In addition to the next eviction we're expecting the follow-up HoH competition and nominations to be held as well. Last year both events were held after the eviction but only the nominations made the special episode. If that's the case again then we'll be able to confirm the nominations when the Live Feeds return.
That takes us back to the anticipated Feeds blackout. Starting this afternoon we expect the Feeds to be switched to Trivia and won't return until after the west coast broadcast of Wednesday's show is finished, so around 9PM PT (12AM ET). Last year SuperPass provided some filler events to keep us covered, but I haven't seen any details on that just yet. We'll post an update here if we hear any details on that.
As for Big Brother After Dark on SHO2, they'll just record 3 hours of footage from earlier in the day and play that back during the regular 12AM-3AM timeslot.
If Jenn is the one out the door tonight, then who do you hope becomes the next HoH?
Don't forget to join us on Facebook, Twitter, iPhone app, & Android app!
Update: Real has some great shows Tuesday and Wednesday on SuperPass to fill the gap while we wait for the Feeds to return.
Tuesday 9/11 – 4PM ET (1PM PT) – Danielle Donato live interview
Tuesday 9/11 – 6PM ET (3PM PT) – Rants & Roars
Tuesday 9/11 – 8PM ET (5PM PT) – Memphis Garrett live interview
Wednesday 9/12 – 1PM ET (10AM PT) – Fan Recap episode
Wednesday 9/12 – 4PM ET (1PM PT) – Wil Heuser interview
Wednesday 9/12 – 6PM ET (3PM PT) – Mike Boogie interview
You can still sign-up for the Live Feeds Free Trial to watch all of these.