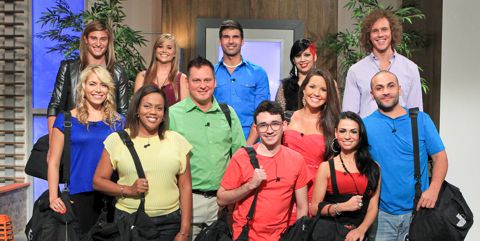 Our first Big Brother 14 spoilers of the season are here! Late last night the Live Feeds leaked out some footage from the in-house cameras and now we can confirm to you the four returning veteran HGs. This season is going to be awesome!
If you want to keep Thursday night's premiere a complete surprise then stop reading now. But if you'd rather find out which veterans have been brought in to mentor the Big Brother 14 newbies and who they may be paired up with then read on.
I'll keep going through the pictures, scroll down to see all of the leaked Feed pics so far, and see if we can determine which newbies of the Big Brother 14 cast are with which vets, but these groupings may not confirm that.
First up is what looks like the Big Brother Have-Nots room with the swirly background and slim beddings. Oh the humanity to find out it's possibly Janelle and her team as the Have-Nots, but other Vets are seen in there later, so it may not prove anything.
We can see Dan in the lounge room talking with Kara and possibly Danielle at another point. You've got Boogie hanging out in the Have-Not later on, so maybe it's his team. Hmm. Last but not least, is that Britney on the lounger in the Big Brother 14 HoH room?
Do NOT forget. Today (Wednesday) is the very last day you can get your Live Feeds at the preseason Early Bird sale price. Tonight at 10PM PT the sale ends and the price goes up 33%. Get your Feeds now and be ready to watch this all summer!
click images to see full-size
Huge kudos to @BigBrotherBuddy & @Clio_The_Lio for these caps of the Live Feeds.