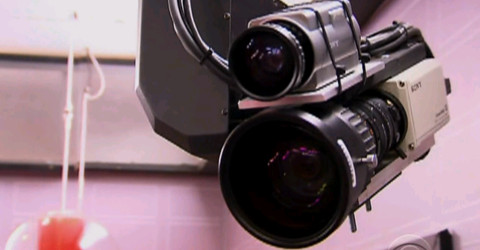 Today's Big Brother 14 Live Feeds theme is "OMG is Wil mad? Is Wil going to vote for Frank to stay?" Over and over and over and over. So start at 9 AM BBT and play through until about 4 AM BBT and you'll hear all about what Wil is going to do. OK, I'm exaggerating. But just barely. All jokes aside, that was the hot topic of the day. It's starting to sound like if Frank has any hope of staying this week, it's with Wil and maybe Britney. Read on to find out what we saw and heard yesterday on the Big Brother Live Feeds.
Curious about the in-house cams? Read our FAQ: What are Big Brother Live Feeds?
Big Brother 14 Live Feed Highlights – Tuesday, July 31, 2012:
8:35 AM BBT — Frank talking to the cameras, saying he hopes some people are as bummed as he is about being on the block. He says he thinks he won't be going home this week.

9:30 AM BBT — Boogie vows to make Shane's life hell if Frank goes home this week.

10:10 AM BBT — Wil, Frank and Boogie talking game. Wil realizes his alliance has weakened and that Janelle isn't as close to him before. Could Frank and Boogie use this to their advantage?

12:14 PM BBT — Janelle, Ashley and Joe talking about Wil. They're starting to think he is switching sides.

12:53: PM BBT — More Wil bashing from Janelle. She tells Britney that he thinks Frank is the greatest. Britney says Wil said he's still voting Frank out.

1:08 PM BBT — Janelle wants Britney to spread a lie that will make Wil angry at Frank.

1:48 PM BBT — Shane comes out of the DR with the HOH camera. Photo sessions commence.

2:03 PM BBT — Janelle's Wil paranoia continues. Instead of talking to him she asks Ashley if he's said anything to her.

2:30 PM BBT — Frank tells Britney he's pissed at Janelle for telling Wil he tried to backdoor him. He says he wants to confront her.

3:30 PM BBT — Finally someone decides to talk to Wil instead of wondering. Joe asks Wil if he's lost his vote this week. Wil says his problem is with Janelle and she shouldn't have pissed off one of her players.

4:40 PM BBT — Joe and Danielle meet in the arcade room. Yeah, these two talking is about as existing as you'd imagine. Danielle tells him she'll vote for him to stay. And I have no point what this meeting was about. Weird.

5:27 PM BBT — Janelle and Danielle talking. Danielle asks if she's safe next week. Janelle assures her. Danielle says her vote against Frank is solid and can't be changed.

7:07 PM BBT — Janelle thinks next season will be another All Stars season. Hear who she thinks would be coming back. She forgets Season 13 people.

8:58 PM BBT — Britney talking Frank out of confronting Janelle and Joe. Frank said DR told him he should.

9:04 PM BBT — Britney tells Danielle she's rethinking the plan to send Frank home instead of Joe. Which is what happens every week. She thinks Janelle's team is falling apart and keeping them all together won't be beneficial.

10:11 PM BBT — Janelle and Wil FINALLY talk it out. Janelle says she knows Wil is made at her. He says he's not mad, just upset that she made him feel worthless. She says she didn't mean to make him feel bad. Janelle actually cries. That's a rarity.

10:40 PM BBT — Dan finally giving some tough love to Danielle about her deal with Shane. She's taking it kind of personally but Dan is clearly just "coaching." He tells her she's in a haze.
So only one more day of this and the power will shift and it could be a whole new game — that is if the coaches enter the game. That's when the Live Feeds will really be on fire. So stay locked her for your updates.
You can catch all of these Big Brother 14 events using Flashback, the DVR-like feature of this year's Live Feeds which means it's always live, even when you missed it! Sign-up now to get the free trial to watch it all live & uncensored!
click images to see full size