The Big Brother 14 house has been revealed! Check out the design and look of this season's home for the new houseguests as they compete for the half-million dollar prize and crown as the next winner of CBS' Big Brother.
So far we've seen lots of the new Big Brother 14 layout from the pictures provided by WeLoveBigBrother.com, along with Real's SuperPass, Yahoo! TV, and pictures from CBS. You can also see an exclusive video tour of the new Big Brother house only on the Live Feeds right now from Real. It's in their archives, so you can watch the tour when ever you are ready. Be sure to have your Early Bird sale price ready to go!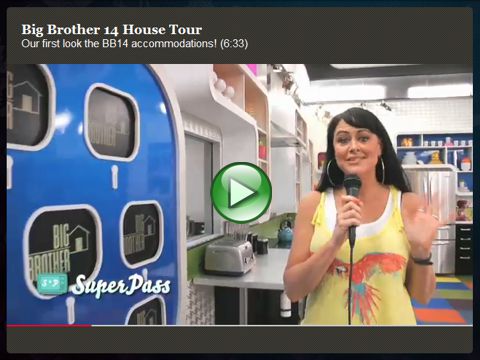 This season's Big Brother design features a lot of bright colors with an 80's "Tokyo Pop" theme. The kitchen walls are covered in silver with rounded, open white cabinets and features a bright, multicolored dining table. Probably the most important feature of the kitchen is the memory wall which holds only 14 spots for HG pics and keys.
We've been promised "more HGs than ever" this season for Big Brother 14 which leads me to believe we'll get a burst of eliminations the first night which immediately takes us down to just 14 remaining players. Those eliminations could be the "4 super sized surprises" we've similarly been promised by CBS. I'm putting that out there as my prediction. Don't forget that I'll soon be meeting this season's HGs for interviews!
Back to the house. We're seeing oddly shaped beds in some of the bedrooms including some round ones and some, well, just weird ones. The HoH room has been shifted around at least a little as you can notice the door isn't right next to the bed this time. The bed might just be in the corner a few feet over from last year. Other photos of the HoH room show a bonzai garden motif which matches the backyard's new wall. Say goodbye, graffiti wall, and hello, calming Japanese garden.
The lounge room no longer features one giant seating area but now wraps around a little table which seems to have a game board on it. I wonder if that means the upstairs chess nook won't be there for Big Brother 14. Then you've got the living room which has a wavy white wall combined with more bright colors lining the rest of the room and cool rounded sofas flanking the appropriately colored red hot seats.
Check out the photos below and keep coming back today as we add more content when it's released. Don't forget you'll need the Live Feeds to watch Real's exclusive tour on SuperPass so be sure to get it before the discounted Early Bird sale price expires!
Update: Even more pics added courtesy of CBS to help you get a better idea of what we'll be starting at for the next few months. The place looks good!
click small images to see full-size